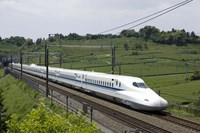 Developer Texas Central has chosen Renfe, in partnership with Spanish rail infrastructure manager Adif, to operate services on the Texas Central Railway, otherwise known as 'the Texas Bullet Train'.
The pair will provide technical advice on the design and construction of the project and assist in the further development of operation and maintenance plans to prepare the high-speed line for passenger service.
The operator will also: run the trains; maintain system components, such as the engines, signals and other equipment; oversee ticketing and other services.
Texas Central CEO Carlos Aguilar said: "Renfe has established a reputation for excellence in railroad operation in Spain and across the world, and we welcome them aboard."
"Having the operator, the design build and technology teams all on board and able to collaborate will ensure all aspects of the railroad are integrated and efficient. The combination of these best-in-class global experts sets the foundation for the new jobs-creating industry we are bringing to Texas."
Renfe president Isaías Táboas said the announcement was "extraordinary news" for Texans and for the Spanish rail industry and added: "Texas Central represents a large high-speed train project in a country with high-growth potential, for which the Spanish experience will be of great help."
"Both Renfe Operadora and Adif have accumulated years and miles of high-speed railway development with professional teams, extensive experience and specialised knowledge. We are committed to the success of Texas Central in improving the mobility of Texans and others in the U.S."
Renfe runs 5,000 trains daily on 7,500 miles of track. In 2017 it moved more than 487 million passengers and 19.6 million tons of freight.
The 240 mile Texas high-speed railway will connect North Texas to Houston in 90 minutes, with a midway stop in the Brazos Valley.
The investor-owned project is not receiving federal or state grants and expects to create 10,000 direct jobs during construction.
About Global Rail News

The Global Rail News team of journalists provide daily updates about the rail industry worldwide, from the awarding of orders for new fleets of trains to the completion of major infrastructure projects. Through a weekly newsletter, we provide news and analysis directly to thousands of subscribers in all corners of the world.