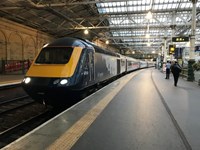 The first train from ScotRail's new fleet of 26 upgraded High Speed Trains (HST) has arrived in Scotland.
The train travelled from Doncaster and crossed the border just before 20:00 on August 17 ahead of its arrival at Haymarket depot in Edinburgh.
ScotRail High-Speed Trains project manager Chris Tait described the trains as "iconic" and said they will help to build "the best railway Scotland's ever had."
Once training is complete, the first HST will enter service between Aberdeen and Edinburgh in the coming weeks.
In total, 17 five-car trains and nine four-car trains will be used on InterCity services between Scotland's seven cities.
The HSTs have more seats and luggage space than ScotRail's existing fleet and will allow for an "enhanced food and drink service", according to the rail operator, with a new cafe area on board in addition to the usual trolley service.
Transport Scotland rolling stock manager George Davidson added: "This is an important milestone in our efforts to improve capacity on our rail services, alongside an enhanced passenger experience."
"It's great to see the first of these trains arrive in Scotland and I'm sure they will make a great addition to the ScotRail fleet."
About Global Rail News

The Global Rail News team of journalists provide daily updates about the rail industry worldwide, from the awarding of orders for new fleets of trains to the completion of major infrastructure projects. Through a weekly newsletter, we provide news and analysis directly to thousands of subscribers in all corners of the world.