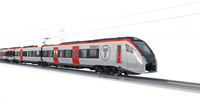 Swiss rolling stock manufacturer Stadler is to supply 36 CityLink tram-trains and 35 Flirt multiple units for the Wales & Borders franchise and the planned South Wales Metro.
The contract was signed with KeolisAmey, which will take over the running and development of both for 15 years from October 14.
The three-part tram-trains will operate on the lines of Cardiff to Treherbert, Aberdare and Merthyr Tydil in dual mode, powered by either overhead electrification or batteries.
They will mark the return of trams to the streets of Cardiff for the first time in more than 70 years.
Eleven of the FLIRTs will be diesel-electric and used on South Wales Metro services to Maesteg, Ebbw Vale and Cheltenham.
The remaining 24 FLIRTs will be trimode, powered by either a diesel-electric drive, an electric drive or batteries. The trimode fleet will consist of seven three-car and 17 four-car trains.
Entering service in 2023, the 24 tri-mode trains will be used on routes linking the Vale of Glamorgan and destinations north of Cardiff. They will be powered by electricity to the north of Cardiff, and diesel to the south.
All trains will be equipped with air conditioning, power sockets, large passenger information screens, and space for up to six bikes.
Transport for Wales CEO James Price said: "We're at the beginning of an exciting new journey as we transform our transport network and deliver a new vision for transport, with the people and places of Wales at the heart of our mission. Stadler's rolling stock will play a key role in in this transformation."
KeolisAmey mobilisation director Colin Lea added: "We would like to thank Stadler for working extremely hard with us to design trains which will enable the innovative South Wales Metro solution."
"This will transform the passenger experience and enable 100 per cent electric running on the valley lines north of Cardiff. This power will be sourced from renewable energy and 50 per cent of that from within Wales. These superb trains will help us cut journey times, provide far more capacity and will put Wales at the forefront of 'smart electrification' technologies."
About Global Rail News

The Global Rail News team of journalists provide daily updates about the rail industry worldwide, from the awarding of orders for new fleets of trains to the completion of major infrastructure projects. Through a weekly newsletter, we provide news and analysis directly to thousands of subscribers in all corners of the world.