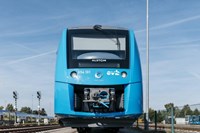 Alstom's first Coradia iLints have today entered service in Lower Saxony, Germany. Built nearby in Salzgitter, the trains are equipped with fuel cells which convert hydrogen and oxygen into electricity, eliminating pollutant emissions related to propulsion.
From today, two of these hydrogen fuel-cell trains will enter commercial service on a 100km stretch of operator Eisenbahnen und Verkehrsbetriebe Elbe-Weser's (EVB) rail network between Cuxhaven, Bremerhaven, Bremervörde and Buxtehude, replacing its diesel fleet in the process.
Alstom CEO Henri Poupart-Lafarge described the hydrogen fuel-cell train as "a revolution for Alstom and for the future of mobility."
He added: "The Coradia iLint heralds a new era in emission-free rail transport. It is an innovation that results from French-German teamwork and exemplifies successful cross-border cooperation."
The new trains will be fuelled at a mobile hydrogen filling pump at Bremervörde station.
With one tank they can operate up to 1,000km before they need to be refuelled.
A stationary filling station on EVB premises is scheduled to go into operation in 2021, when Alstom will deliver a further 14 Coradia iLint trains to transport authority Lower Saxony Transport Authority (LNVG).
Bernd Althusmann is Lower Saxony's Minister of Economy and Transport, whose department has supported LNVG's purchase of 14 Coradia iLints.
He said: "The emission-free drive technology of the Coradia iLint provides a climate-friendly alternative to conventional diesel trains, particularly on non-electrified lines."
About Global Rail News

The Global Rail News team of journalists provide daily updates about the rail industry worldwide, from the awarding of orders for new fleets of trains to the completion of major infrastructure projects. Through a weekly newsletter, we provide news and analysis directly to thousands of subscribers in all corners of the world.