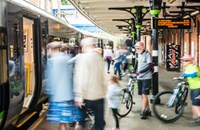 extra capacity for 20,000 additional passengers in London and Birmingham at peak times and wide range of new services to be introduced
new operator expected to take over the franchise in October 2017
franchise bidders must set out how they will deliver more trains and more space for passengers
Rail passengers across the West Midlands network are set for better journeys with a host of extra services and benefits under plans announced today (30 August 2016) by Rail Minister Paul Maynard.
Bidders for the new franchise will be required to deliver hundreds of extra services, new ticketing options and much increased capacity. The publication of the invitation to tender details the minimum level of improvements bidders hoping to secure the next franchise will need to include in their detailed proposals.
Benefits will include:
space for more than 20,000 additional passengers to travel into London and Birmingham in the morning peak though the introduction of longer trains
more than 300 extra Sunday services across the franchise by 2021, including 50 new services in each direction between Birmingham and Longbridge and the same between Birmingham and Sutton Coldfield
more evening services from Birmingham to Lichfield City, Bromsgrove, Kidderminster, Whitlocks End and Dorridge and later Saturday last services from Birmingham to Wolverhampton, Bromsgrove and Liverpool
a new hourly service from Birmingham and Wolverhampton to Crewe via Stafford and Stoke-on-Trent
free Wi-Fi on all main line services by the end of 2019
new ticket options for part time travellers which provide better value options for customers who travel fewer than 5 days a week
new direct peak time services between Walsall and London
Additionally there will also be a requirement for bidders to provide at least 60 apprenticeships as part of the franchise.
Rail Minister Paul Maynard said:
"We are making the biggest investment in the railways since the Victorian era and today marks a key step forward in giving passengers better journeys across the West Midlands and beyond.
"This franchise serves both commuters and long distance passengers and these benefits will deliver extra and smoother journeys for customers using these services."
The current franchise is operated by London Midland and covers a combination of commuting and long-distance services spanning the Midlands, south-east and north-west as well as services to London Euston and Liverpool Lime Street.
West Midlands Rail Ltd (WMR), which has been set up by the 14 Metropolitan, Shire and Unitary authorities from across the wider West Midlands, has worked collaboratively with the Department for Transport (DfT) to design, specify and manage the new franchise.
Councillor Mark Winnington, WMR Chair and Staffordshire County Council's Cabinet Member for Economic Growth, said:
"Today's announcement is a game changer in that it is the first time the West Midlands has had this level of involvement in shaping what a train company has to deliver for local passengers.
"The region has come together to grab this devolution opportunity with both hands and we believe that together with the Department for Transport we have set out a railway that brings real benefits not only for passengers but also for local businesses, supporting economic growth and jobs.
"The authorities of the West Midlands are united in this and believe the region better understands what it needs from its railway and that having greater responsibility for its management is good for passengers, good for the economy and good for taxpayers."
Bidders are encouraged to include proposals for additional benefits over and above the minimum requirements published today. It follows an extensive public consultation which attracted almost 2000 responses.
The shortlisted bidders for the franchise are:
London and West Midlands Railway Limited, a subsidiary of Govia Limited (a joint venture between Keolis and Go-Ahead Group)
West Midlands Trains Limited, currently a wholly owned subsidiary of Abellio Transport Group Limited with East Japan Railway Company and Mitsui & Co Limited as minority partners
Bidders for the West Midlands franchise have until 29 November 2016 to submit their bids, with the new operator planned to take over the franchise in October 2017.
About The UK Department of Transport
The Department of Transport works with our agencies and partners to support the transport network that helps the UK's businesses and gets people and goods travelling around the country. We plan and invest in transport infrastructure to keep the UK on the move.