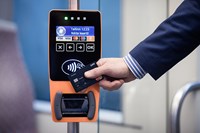 Ridango and Klaipeda Transport have been working together since October 2017, when Ridango first won a public procurement for implementing a new ticketing system in Klaipeda. During 2018, Ridango delivered a central system for account-based ticketing and RTPI solution, as well as all the required hardware for 231 buses and support operations during the initial contract period of three years.
As the initial contract term was coming to an end, in September, Klaipeda Transport launched a procurement to secure the operations contract for the next period. Ridango was declared a successful bidder, and a new contract with the term of 60 months was signed. Besides operational support and maintenance of the system, the delivery also includes some additional functionalities and features to further develop and enhance Klaipeda Transport's existing solution.
"The switch to ID account-based ticketing in 2017 (system launched in 2018) paid off, it helped us, as public transport authority, a lot during 2020 (Covid pandemic situation). So, we are glad to continue cooperation with Ridango operating an easily understandable and reliable e-ticketing system and looking forward to moving it even to a new level - launching contactless EMV in the future," said Andrius Samuilovas, the acting CEO of Klaipėdos Keleivinis Transportas.
Argo Verk, Head of Sales of Ridango, added: "Klaipeda Transport became our first customer in Lithuania. The relationship between us has been very good – we have learned a great deal about the public transport in Lithuania and have been able to help Klaipeda Transport to improve the ticketing and real-time services offering for the passengers. We are looking forward to further developments, including contactless bank card acceptance (cEMV) in the future".
About Ridango
Ridango is a frontrunner of innovation in public transport ticketing and payment systems, being recognized as one of the most experienced account-based ticketing solution providers globally. Ridango is a solution provider for public transport, with a focus on automated fare collection (AFC) and real-time passenger information (RTPI) systems. The company was established in 2009 in Tallinn, the location of our HQ to this day.
We have executed numerous projects in Nordic countries and the CEE region with public transport authorities and operators of various sizes. The scalability of the solution allows us to serve any transport system, small or large.