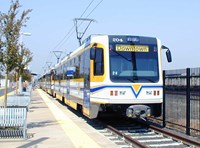 To improve the convenience of buying tickets and passes, the Sacramento Regional Transit District (RT) has launched a new "RideSacRT" mobile fare app. The mobile fare app allows customers to purchase, save and use fare for RT bus and light rail trips directly from a smartphone.
The free mobile app is a six-month pilot program developed by mobile payment provider Passport that will initially offer Basic and Discount single ride and daily passes. An added benefit to using the mobile app is that single ride fare is valid for up to 90 minutes once activated, which means that an RT mobile ticket can be used to ride both bus and light rail. However, the ticket must be valid for the duration of a light rail trip. In addition, up to 10 RT tickets or passes can be purchased and stored on the mobile app for later use until June 30, 2016.
After the conclusion of the pilot program, RT will transition RideSacRT to a permanent mobile app with additional features.
RideSacRT also offers riders the ability to plan their trip and track buses in real-time. The mobile app is now available for download at the App Store (iOS) and Google Play (Android). For more information, visit sacrt.com or call 916-321-BUSS (2877).
About Regional transit
The Sacramento Regional Transit District (RT) operates 67 bus routes and 38.6 miles of light rail covering a 418 square-mile service area. Buses and light rail run 365 days a year using 76 light rail vehicles, 182 buses (with an additional 30 buses in reserve) powered by compressed natural gas (CNG) and 11 shuttle vans.
About Passport

Passport is the industry-leading mobile payments company specializing in integrated urban mobility solutions. The company provides feature rich software platforms that offer parking and transit agencies a more effective and efficient way to manage their operations and serve their customers. Passport's smart city solution includes multimodal options by creating an all app solution for public transit riders and parkers. Passport's mobile payment systems are deployed in over 1,000 locations in 46 states and provinces across the US and Canada, with clients such as Chicago, Toronto, and Boston.
Headquartered in Charlotte, NC, Passport is backed by a highly respected group of investors, including Grotech Ventures and Relevance Capital. For more information, please visit www.gopassport.com