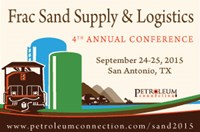 Ryder System, Inc. (NYSE: R), a leader in commercial fleet management, dedicated transportation, and supply chain solutions, today announced that it will participate at the fourth annual Frac Sand Supply & Logistics conference, September 23 – 25, in San Antonio, Texas. The conference presents an opportunity for key decision makers to address the challenges and opportunities brought on by the growing demand for silica sand and proppants. Ryder will sponsor the conference and promote safety, fleet management, and supply chain solutions for the oil and gas industry during several speaking arrangements and at booth #17.
TWEET THIS: @RyderPR #oilandgas experts to speak @ annual Frac Sand conference about safety, fleet management, & supply chain solutions @petroconnection
During the conference, Ryder oil and gas experts will discuss several topics that are affecting the industry today. The Company will host a roundtable discussion titled "Understanding True Cost of Ownership for Oil & Gas Fleets", on September 25 where Ryder Director of Financial Consulting for National Accounts, Kirk Morton, will discuss methods and tactics for analyzing the total cost of owning a commercial oil and gas fleet to help businesses evaluate their current mode of financing and fleet maintenance.
Ryder Senior Director of Engineering for Oil & Gas, William Taylor, and Ryder Senior Manager of Health, Safety, Security, and Environmental, Randy Tomlinson, will also hold a presentation titled "Drilling Down into Oil & Gas Safety" about new approaches to oil and gas safety practices in transportation. "Ryder's roundtable discussion and presentation will serve as a platform for the Company to share its industry expertise to help create a connection between the logistics function, fleet operators, and well site operations, with the aim to identify strategies to extend lead times, improve planning in the upstream delivery process, and evaluate safety standards," said Steve Martin, Vice President of Operations and General Manager, Oil & Gas, for Ryder. "With operational know-how and engineering analysis, Ryder can help oil and gas companies operate more efficiently, save money, and improve safety."
The oil and gas industry relies on Ryder to take costs and risks out of transportation and logistics, enabling customers to maximize uptime, keep supplies and goods moving, and bring costs down. This is all supported by a proven health and safety culture driven by experienced oilfield operators and health, safety, and environmental professionals. Ryder turns a complicated supply chain into a company's strategic competitive edge, from the oilfield to the marketplace. With more than 200 customers in the oil and gas sector, Ryder is at the forefront of change as the industry finds new ways to streamline and optimize fleets and supply chains.
The Frac Sand Supply & Logistics conference will be held at the JW Marriott Hill Country Resort & Spa in San Antonio. For more information on the conference, visit http://www.petroleumconnection.com
About Ryder
Ryder is a FORTUNE 500® commercial fleet management, dedicated transportation, and supply chain solutions company. Ryder's stock (NYSE:R) is a component of the Dow Jones Transportation Average and the Standard & Poor's 500 Index. Ryder has been named among FORTUNE's World's Most Admired Companies, and has been recognized for its industry-leading practices in third-party logistics, environmentally-friendly fleet and supply chain solutions, and world-class safety and security programs. The Company is a proud member of the American Red Cross Disaster Responder Program, supporting national and local disaster preparedness and response efforts.