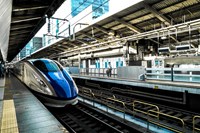 Salini Impregilo has won a €608.1-million contract to build a section of a high-capacity rail line between the Italian cities of Naples and Bari that will be part of the Trans-European Network (TEN), an initiative designed to integrate rail transport networks across the continent, improving connections with southern Italy.
Salini Impregilo, leader of a consortium with Astaldi, will build the Apice-Hirpinia section of the line that runs for some 18.7 kilometres between the towns of Avellino and Benevento. The contract includes the construction of a station at Hirpinia and a stop at Apice, three tunnels and four viaducts. Salini Impregilo has a 60% stake in the consortium.
Salini Impregilo is already working another part of the Naples-Bari line: a 15.5-kilometre section between Naples and Cancello. Commissioned by Rete Ferroviara Italiana, a unit of Ferrovie dello Stato Italiane, the state-owned railway company, the Napoli-Bari project's participation in the TEN will improve the competitiveness of the continent's rail transport and increase the volume of goods transported by train.
Salini Impregilo has a long experience in railways, including high-speed and high-capacity lines. It recently began work on the expansion of the 38-kilometre Bicocca and Catenanuova section of a line between Palermo and Catania in Sicily. This project, too, belongs to the TEN-T initiative. The Group was responsible for the construction of the high-speed rail lines between Turin and Milan, as well as Bologna and Florence. It is currently working on a line between Milan and Genoa called the Terzo Valico dei Giovi.
Salini Impregilo is also taking part in the excavation of the Brenner Base Tunnel which, once completed, will be the longest rail tunnel in the world. Elsewhere, it is working on the Forrestfield-Airport Link in Perth, Australia. In the United States, it is serving as lead for a civil construction consortium that is working on a project to build a 240-mile (386 kilometres), high-speed train service between Houston and North Texas.
About Salini Impregilo
Salini Impregilo is an industrial Group specializing in the construction of major, complex infrastructure projects throughout the world. Inspired by the principles of sustainable development, the Group uses technological and organisational innovation combined with its extraordinary human and professional resources, to develop construction solutions capable of enhancing the resources of communities and contributing to the economic and social improvement of nations.