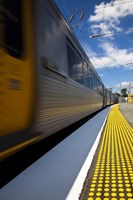 With its 2020 strategy, SBB is setting the course for the mobility of the future. SBB wants to remain a strong railway as well as a reliable mobility service provider and development partner. It is combining the strengths of the railway with the potential of new technology, leading to innovations such as new services for door-to-door journeys, digital stations, smart freight wagons and even capacity increases thanks to enhanced railway technology. SBB showcased innovation projects from the Passenger, Real Estate, Freight and Infrastructure divisions at a media event.
Mobility is undergoing profound and extensive change. New customer requirements, digitalisation, new mobility providers and regulatory developments are changing markets and business models. Other modes of transport are catching up in terms of price and environmental advantage. There is an increasing demand for personalised, intermodal, networked and simple mobility and logistics solutions.
SBB has developed its 2020 strategy and consolidated it with customers, employees, partners and policymakers on the basis of the rapidly changing environment. SBB will continue to focus on the strengths of the railway in the future. At the same time, it will reinforce its role as a reliable mobility service provider and attractive development partner. It aims to reduce the rise in overall system costs so that public transport remains affordable for customers and ordering parties. The corresponding "RailFit20/30" programme is currently being implemented. SBB also wants to boost earnings and capacity utilisation. It is organising the entire mobility chain for customers and improving the management and performance culture. Targeted investments and increased innovation are at the forefront. SBB is introducing a new Group-wide innovation management system to promote innovative spirit. This involves working with customers and partners more often. It is also establishing an innovation fund endowed with 12 million Swiss francs.The aim is to use innovations to create actual services as quickly as possible. However, if they do not stand the test, SBB will remove them from the market again.
30 percent capacity increase thanks to more efficient railway technology
Thanks to digitalisation, the capacity of the Swiss track network – already the most heavily used rail network in the world – can be increased by up to 30 percent. To this end, SBB is furthering the automation of timetable creation, rail operations and train control and is also looking into the possibility of remote-controlled trains. SBB is also designing a new digital signal box. This reduces the quantity and variety of signalling installations, cutting costs substantially.
The railway technology of the future means that the railway system can be used in a more efficient way. From 2025, there will be more trains in use, denser timetable intervals, fewer disruptions, improved radio connection and more precise customer information in the event of a disruption. SBB has launched Group-wide initiatives to achieve this.
SBB is using digitalisation for maintenance, too. The permanent way is being maintained in a future-oriented and cost-saving manner thanks to a newly developed system called swissTAMP. Using these new tools for status analysis and maintenance planning reduces the number of disruptions and improves reliability and punctuality.
Speaking timetable
SBB has explored new ground with the new version of SBB Mobile by involving customers in its development. Since then, it has managed to attract over 150,000 new users. Over three million customers now use SBB Mobile regularly. Development work on the app is ongoing: In the first quarter of 2017 SBB is launching a voice control function with a speaking timetable and a speaking robot as a source of further information.
The new SBB Trip Planner app will enable customers to compare, combine and book a journey with multiple modes of transport. They will also be able to book taxi services and Uber over the coming months.
Integrated mobility is a further central field of innovation. SBB is developing a simple, environmentally friendly door-to-door service called "SBB Green Class" and is teaming up with ETH Zurich to research the mobility behaviour of the general public. The findings will provide SBB with important information about customers' requirements for combined door-to-door mobility, with a view towards the possibility of launching similar products.
Railway stations going digital
SBB is turning its railway stations into networked, multimodal mobility hubs, i.e. traffic nodes, destinations and service centres all in one. Digital departure and arrival boards, screens with up-to-the-minute information about train traffic, e-panels for third-party advertising, touchscreen ticket machines and free WiFi are already available. SBB is working with technology firms and partners such as Google and ETH Zurich to improve the quality of services in railway stations even further. In addition to being able to access a virtual view of the railway station in Google Street View, the station's infrastructure such as escalators, elevators and lighting will also be controlled digitally in the future via the Internet of Things.
Intelligent freight wagons
SBB is also set to use digitalisation in goods transport, installing various sensors in the wagons. The instruments will measure temperature, vibrations and the wagon's position. SBB will take into account the needs of transport customers seeking to know what the status of their goods is, where they are at any given time and whether they will arrive on schedule. In addition, SBB Cargo will take the automation of rail production a step further by 2018 thanks to the automatic coupling of the wagons.
About SBB
Customers' mobility needs are changing; new suppliers are coming onto the market; and digitalisation and automation are creating new opportunities. SBB is harnessing the potential of new technologies and coupling this with the strengths of rail along the entire mobility chain with a good price/performance ratio. At the same time, it will be bolstering its role as a trustworthy mobility service provider and attractive development partner. It is modernising the rail system, investing in infrastructure and new services, while also cutting the overall costs of the railway. SBB is developing railway stations and areas into attractive mobility hubs and spaces. It is working on sustainable service concepts, strengthening rail's environmental advantage and testing innovative mobility solutions. As the backbone of the Swiss public transport system, SBB also shapes the mobility of the future – simple, personal, connected.