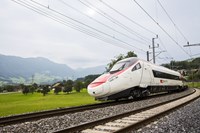 Scheduled services have been running through the 57-kilometre-long Gotthard Base Tunnel for 57 days now. No fewer than 2816 passengers and 3980 freight trains have passed through the world's longest railway tunnel during this time. InterCity and EuroCity services have seen demand increase by some 30 percent compared with the same period last year. Operations have been largely free of disruptions. Punctuality on the Gotthard corridor has improved since early December, with the planned reductions in journey times achieved for both freight and passenger services. Nevertheless, there is still work to do in this regard. This will focus on the delays affecting trains coming from Italy and the availability of rolling stock.
The Gotthard Base Tunnel (GBT) has been placed successfully in service. Following intensive testing, the systems and technical installations have now proved themselves robust during normal operation as well. Stability in the national timetable has essentially been maintained. Journey times on the north-south Gotthard corridor are thus 30 minutes shorter than they used to be. Customer punctuality on passenger services on the Gotthard line has improved from 79.6 to 86.8 percent since early December. Connection punctuality in Arth-Goldau has risen from 94.4 to 97.1 percent. Operations are also running steadily on the Gotthard panorama route, with punctuality nearly at 100 percent. As expected, passenger volumes on the panorama route have fallen sharply since the GBT was placed in service as well as being low due to the time of year. Expressed in a different way, fewer than 500 people are travelling between Göschenen and Airolo every day. From April to October an extra train will run between Zurich and Bellinzona and back on the Gotthard panoramic route at weekends and on public holidays. The new "Gotthard Panorama Express" will also operate during this period, taking passengers by boat from Lucerne to Flüelen, where they board the train to continue along the Gotthard panorama route into Ticino, or vice versa. The situation regarding services from Italy remains challenging. The EuroCity trains from Milan are often delayed and depart from Chiasso with an average delay of eight minutes. However, the time lost can generally be made up using the journey time reserves factored in between Chiasso and Arth-Goldau. A total of 43 trains have been cancelled since the timetable change on 11 December 2016, mostly due to vehicle breakdowns. Thanks to the replacement train stationed in Ticino specifically for this purpose, however, the impact on national services has been minimal.
Demand along the Gotthard corridor was encouragingly high over the public holidays, with some 8,800 people passing through the GBT every day on average. This is around 30 percent more than in the same period last year. In some cases the capacity was limited over the public holidays because there were not enough trains available or because system restrictions prevented any additional ones from being put on. In a handful of cases, passengers had to be asked to wait for the next train or were diverted via the Gotthard panoramic route.
SBB is working on solving the challenges posed by any more spikes in capacity utilisation. Very high passenger volumes are expected at Easter, particularly on Zurich–Milan EuroCity trains, meaning that people are also advised to reserve seats on journeys to Ticino (reservations for services within Switzerland can be made at the ticket counter or by calling Rail Service on 0900 300 300). The findings gleaned from the first few weeks of operation will facilitate further improvements to services. Extra staff will also be on hand at Bellinzona and Arth-Goldau stations in future to provide customer information and operational support.
Freight services running on time
SBB Cargo began its first scheduled freight services through the Gotthard Base Tunnel on11 December 2016. "WLV 2017", a regular-interval timetable for wagonload freight, was also launched throughout Switzerland at the same time. SBB Cargo is now adapting in line with the increased speed of logistics operations and is serving some places as many as three times a day rather than just once as previously. Train path capacity for freight services along the Gotthard corridor is not yet fully utilised due to the time of year. Demand for transport by rail will increase during warmer season especially in the construction industry. A hundred trains travel through the GBT each day on average. These transport some 41,000 tons of goods daily, saving the equivalent of 3,600 LGV trips. The GBT is also benefiting SBB Cargo's customers: the time saving of about 30 minutes, for instance, means that PostLogistics can now wait until later to load its postal trains heading to Ticino from the letter centre in Härkingen in the canton of Solothurn. This enables it to switch a large number of night-time LGV journeys to the railway. Freight services will reach their full potential–260 trains per day in each direction and a train length of 750 metres–when the Ceneri Base Tunnel and the 4-metre corridor open in late 2020.
Freight services are essentially running on time and without any recurring delays. Breakdowns affecting several railway companies' locomotives and alarms in train monitoring systems are still restricting services in isolated cases. The causes are being analysed on an ongoing basis and appropriate corrective action is being taken. The specified timings for passing through the Gotthard Base Tunnel are being kept to and the delays that trains can sometimes incur while approaching the tunnel can usually be partially or even completely made up on their way through. Only a few freight services are still using the Gotthard panoramic route. This mainly happens overnight from Monday to Tuesday, when maintenance work in the tunnel limits its capacity to only one tube.
SBB upgrading the north-south Gotthard corridor
The new Gotthard Base Tunnel embodies Swiss precision, innovation and reliability. Its opening on 11 December 2016 marked the key milestone for the renovated north-south Gotthard corridor. By the time the Ceneri Base Tunnel and the 4-meter corridor are placed in service in late 2020, some 25 construction projects will have been carried out on the approaches to the two base tunnels between Basel and Chiasso. Using a range of measures relating to rolling stock, construction and operations, SBB will limit the impact on customers as much as possible until the projects are completed.
About SBB
Every year, SBB transports 441 million passengers. Its 3030 route kilometres make up a high proportion of Switzerland's 7590-km rail network. With the exception of Herisau and Appenzell, all of Switzerland's cantonal capitals are on the SBB network. 794 stations have hourly or half-hourly train services.
33,000 railway employees work round the clock to keep trains running safely and punctually. So SBB isn't just the largest travel and transport company in Switzerland, it's also one of the biggest employers.