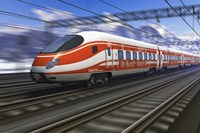 The national rail service will be extended when the new timetable is introduced on 11 December 2016. The biggest change in the new timetable will be the start of commercial operations through the Gotthard Base Tunnel, with journey times on the north-south axis being cut by around 30 minutes. Trains will continue to serve the Gotthard panorama route at hourly intervals, while extra weekend specials and the Gotthard Panorama Express will also run from spring 2017 onwards. At the same time, the rest of the network will see minor changes to long-distance and regional services. New ticket types are being added and the fare adjustments already announced will come into effect. Meanwhile, SBB Cargo is introducing a regular timetable for wagonload freight, providing its customers with a more frequent service and more overnight express shipments.
The most significant new feature of this year's timetable change is the opening of the Gotthard Base Tunnel to scheduled trains, widening the range of services available to customers. The construction project of the century will cut the travel time between German-speaking part of Switzerland and the Canton of Ticino by around 30 minutes in both directions, while journeys to Italy will now be 40 minutes shorter. Three fast trains will travel through the Base Tunnel in each direction every two hours. Passengers will also be able to enjoy additional services on weekends. Whilestarting commercial operations through the Gotthard Base Tunnel, SBB is also continuing to add more services on its national rail network.
Attractive range of services along the Gotthard panorama route
The range of rail services available along the Gotthard panorama route will continue to be attractive for business travellers, while also giving a boost to the tourist industry in the St. Gotthard region. Hourly RegioExpress trains will connect Erstfeld and Bellinzona, both of which offer connections to long-distance services. Some InterRegio trains coming from Basel and Zurich will still continue on to Göschenen during periods of high demand. On weekends and on public holidays from April to October, there will also be a direct service – the "Gotthard Weekender" – between Zurich and Bellinzona and back along the Gotthard panorama route, giving cyclists and hikers a convenient new travel option. In addition, the new "Gotthard Panorama Express" will run from Easter until the end of October. The route takes passengers by boat from Lucerne to Flüelen, where they board the train for their onward journey along the Gotthard panorama route into Ticino.
As part of the "San Gottardo 2020" programme of events, SBB is coordinating all the marketing activities for the St. Gotthard region, thus helping the local tourist industry to generate even more value.
Co-travelcard and modular travelcard
There have also been some additions to the range of tickets: the Children's Co-travelcard now allows anyone over 16 travelling with a child under 16 to use public transport for CHF 30 for a whole year. The Grandchild travelcard has been combined with this new ticket. The child's travelling companions now do not have to be their parents or grandparents but can also be neighbours, aunts and uncles, friends or other caregivers. The Children's Co-travelcard and the Junior travelcard will be available with a 50% discount for a special price of CHF 15 from 1 February 2017 to 31 January 2018.
The modular travelcard will be launched across Switzerland at the beginning of April 2017. It allows holders to combine routes with local transport networks and their services. The fare adjustments announced in autumn will come into effect when the new timetable is introduced (see enclosed table).
A new uniform for train crew
SBB is introducing a new uniform for its train crew at the same time as its new timetable. The new uniform for counter staff will be rolled out gradually starting late Feb-ruary 2017 (photos can be downloaded from the SBB Media Center).
SBB Cargo to modernise its range of services
The opening of the Gotthard Base Tunnel will not only improve passenger services, it will also result in more train paths for freight services. A total of 160 freight trains can currently travel on the Gotthard north-south axis every day, but this number will increase to 210 on 11 December 2016. SBB is also making improvements to its wagonload freight. With effect from the timetable change on 11 December 2016, freight services will follow a regular timetable with three handling stages in the marshalling yards. This will allow freight customers to benefit from more frequent services as well as more overnight express shipments. SBB Cargo accounts for 25 percent of all road/rail transport volume in Switzerland, which means it plays a key role in supplying Swiss firms.
New features on the SwissPass
The SwissPass keeps on developing. Since 1 November 2016, customers with a Half-Fare travelcard on their SwissPass have been able to leave the card in their pocket or bag and simply show their e-ticket. From 1 April 2017, it will also be possible to add the modular travelcard as well as monthly and annual travelcards from the two fare networks Mobilis and Unireso to the SwissPass.
Partner services are also being expanded further: from the next skiing season onwards, winter sports enthusiasts will be able to use their SwissPass at Ticketcorner's ski resort partners and benefit from Snow'n'Rail offers at some 70 ski resorts in Switzerland. In addition, Europcar, Hotelcard, Swiss Rent a Ski and Greenmotion have signed up as SwissPass service partners.
About SBB
Every year, SBB transports 441 million passengers. Its 3030 route kilometres make up a high proportion of Switzerland's 7590-km rail network. With the exception of Herisau and Appenzell, all of Switzerland's cantonal capitals are on the SBB network. 794 stations have hourly or half-hourly train services.
33,000 railway employees work round the clock to keep trains running safely and punctually. So SBB isn't just the largest travel and transport company in Switzerland, it's also one of the biggest employers.