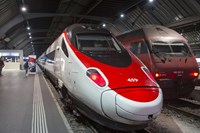 Trains have been running through the Gotthard Base Tunnel since earlier this morning, without any problems affecting what is a historic timetable change along the north-south Gotthard corridor. Passengers and freight customers are benefiting from shorter journey times and more reliable connections. Two special early-morning trains took customers and guests to Lugano, which is celebrating the opening of the longest railway tunnel in the world and also of its own refurbished station. The timetable change ran also largely without problems in the rest of Switzerland.
With the Gotthard Base Tunnel, SBB has successfully placed a complex integrated system in service following an intensive test phase. The historic timetable change means that passengers' journey times along the north-south Gotthard corridor will be cut by around 30 minutes. Freight services will see train path capacity increase from 180 to 210 trains per day, while some 48 passenger trains will travel through the new tunnel over the same period. Only air-conditioned ICN and ETR 610 multiple units and InterCity train sets will use the Gotthard Base Tunnel, to be joined in late 2019 by the new Giruno trains, which will allow passengers to travel in genuine comfort. SBB is intent on making best possible use of the new rail infrastructure and is committed to improving punctuality along the north-south corridor in consultation with its partners in Italy. By the end of 2020 the planning of work at the infrastructure in Italy and Switzerland will be coordinated. Thanks to the good cooperation, the direct connection between Zurich and Venice can be definitely implemented in June 2017.
Today also marks SBB's introduction of an attractive range of services on the Gotthard panoramic route, with its InterRegio trains from Basel, Lucerne and Zurich and its RegioExpress trains from Ticino now running to Erstfeld and back every hour. The peak-time direct through connections from Basel and Zurich to Göschenen are also being retained. In addition, the Gotthard panoramic route will play host to two tourist specials between April and October – the "Gotthard Weekender" from Zurich and the new "Gotthard Panorama Express" between Flüelen and Bellinzona.
Switzerland comes together in Lugano
The start of the operation in the Gotthard Base Tunnel is another highlight in a very special year for Switzerland and SBB. The opening in June and has highlighted the importance of the century construction and showed what can be achieved with Swiss innovation, precision and reliability. Numerous partners were involved in this success: The Swiss Confederation, AlpTransit Gotthard AG, but also Gottardo's main partners, Credit Suisse, Coop, Mobiliar, Mondaine, Stadler Rail and ABB, as well as partners from business and science.
The EuroCity 11, the first timetabled train through the Gotthard Base Tunnel, left Zurich main station at 6.09 this morning for southern Switzerland. It was carrying customers and guests including Director of the Swiss Federal Office of Transport Peter Füglistaler and SBB AG CEO Andreas Meyer. A second special had left Basel for Lugano at 4.55 a.m., this time a combined passenger and freight train bringing "Basler Läckerli" biscuits to southern Switzerland as a gift for guests. Both trains arrived in Lugano some time after 8.00 a.m., to be met by local Ticinese and representatives of the canton. Lugano station then hosted the official ceremony marking the opening of the Gotthard Base Tunnel, an event entitled "Switzerland comes together". Peter Füglistaler and Andreas Meyer joined President of Uri Cantonal Council Beat Jörg, his Ticinese counterpart Paolo Beltraminelli and a great many guests to celebrate the longest railway tunnel in the world being placed in service.
Next on the programme was the opening of the modernised Lugano station and the refurbished "Funicolare" funicular, complete with a grand public celebration. SBB and the cantonal and city authorities have spent a total of CHF 23 million upgrading the station into the smart-looking "Terrazza del Ticino". The combined passenger and freight train will set off back for Basel just before midday, this time laden with panettoni, which will be handed out to customers at Basel station from around 3.00 p.m.
Full potential to be reached in 2020
The revamped north-south Gotthard corridor will bring its full potential to bear in late 2020, when the Ceneri Base Tunnel and the 4-metre corridor are operational. This will increase train path capacity for freight services to 260 trains per day and save passengers travelling between German-speaking Switzerland and Milan up to 60 minutes on their journeys. From this point onwards, trains between German-speaking Switzerland and Ticino will operate every half hour while Zurich–Milan services will run hourly. In Ticino, the offer and the timetable are gradually being optimized. By the end of 2020 there will also be major improvements to regional traffic in Ticino. For instance, passengers can look forward to a new Lugano–Locarno express, while journeys between the Leventina district and Lugano/Mendrisiotto will be up to 30 minutes quicker.
SBB will have invested a total of over CHF 2 billion in Ticino by 2030. Although the company needs to make savings if it is to hold its own against increasingly fierce competition, it is still making targeted, sustainable investments in the future. With their overall strategy for Ticino, which was signed yesterday, the cantonal authorities and SBB have laid the foundations for exploiting the potential offered by these investments and for setting out their shared guiding principles for the mobility of the future.
SBB upgrading the north-south Gotthard corridor
The new Gotthard Base Tunnel embodies Swiss precision, innovation and reliability and its opening on 11 December 2016 is the key milestone for the renovated north-south Gotthard corridor. By the time the Ceneri Base Tunnel and the 4-meter corridor are placed in service in late 2020, some 25 construction projects will have been carried out on the approaches to the two base tunnels between Basel and Chiasso. Using a range of measures relating to rolling stock, construction and operations, SBB will limit the impact on customers as much as possible until the projects are completed.
About SBB
Every year, SBB transports 441 million passengers. Its 3030 route kilometres make up a high proportion of Switzerland's 7590-km rail network. With the exception of Herisau and Appenzell, all of Switzerland's cantonal capitals are on the SBB network. 794 stations have hourly or half-hourly train services.
33,000 railway employees work round the clock to keep trains running safely and punctually. So SBB isn't just the largest travel and transport company in Switzerland, it's also one of the biggest employers.