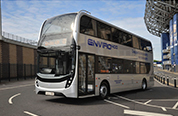 Scania (Great Britain) Limited has completed the development of the world's first euro 6 double-deck gas-powered bus chassis. With assembly of the chassis in the UK carried out by mi vehicle integration Limited, Leyland, in conjunction with Scania Sweden and Alexander Dennis Limited, (ADL), the vehicle will now be transported to ADL's Falkirk plant for fitment of its body, an enviro 400mmc.
Based on a Scania N 280 UD4x2EB the vehicle features Scania's OC09 101 nine-litre, five-cylinder, Euro 6 dedicated gas engine driving through a ZF EcoLife six-speed fully automatic gearbox incorporating ZF's Topodyn automated gear selection program, which is fitted as standard.
The OC09 101 develops 280 horsepower (206kW) at 1,900rpm and 1,350Nm torque at 1,000-1,400 rpm and is capable of operating on compressed natural gas (CNG) or biogas. When operated on biogas, carbon dioxide emissions are reduced by up to 90 percent. To meet Euro 6 emission levels, the engine employs a three-way catalyst, exhaust gas recirculation (EGR) and does not require selective catalytic reduction (SCR).
Fitment of the vehicle's ADL Enviro 400MMC body is scheduled to be completed by late Spring, after which it will proceed on a nationwide demonstration programme.
"With its ultra-low low emissions and quiet operation, this vehicle represents an extremely attractive proposition to the UK bus industry," says Mark Oliver, UK Fleet Sales Manager, Bus and Coach, for Scania (Great Britain) Limited. "As such, there is already significant interest in our demonstration programme, which will be supported by our partner roadgas, who will provide a mobile refuelling station for the vehicle as it tours the country."
Scania Gas Power
Over the course of its long history, Scania has produced gas-powered vehicles for almost 100 years, with one of the earliest recorded examples being buses adapted to run on producer gas during the First World War years. In more recent times the company has supplied in excess of 4,000 gas engines for various applications in a number of countries worldwide. Included here is the world's first Euro 6 gas-powered truck, which entered service with Swedish operator, Bring Logistics, in June 2013.
Today, Scania's gas engines are designed to provide the same performance as a comparative diesel engine. Power ratings for its two Euro 6 units are 280 and 340 horsepower, with torque ratings of 1,350 and 1,600Nm respectively.
In the UK, gas-powered Scania buses have been working since April 2013, when Reading Buses became the first operator to adopt them. To ensure a readily-available supply of fuel an in-house CNG filling station has been installed at the company's premises. The filling station sources its fuel from the gas main, with every litre taken being replaced by a litre of biogas, thereby effectively making Reading's a carbon-neutral operation.
About Scania UK
Scania is a major supplier to british industry of trucks, buses, coaches and engines for industrial and marine applications. Additionally, the company provides a wide range of complementary and ancillary services in support of its products and customers through its 90-plus-strong network of service centres. In 2014, scania's share of the uk heavy truck market was 17.3% and its combined bus and coach market share amounted to 9.7%.
Scania dealers offer sales of new and used vehicles and, through a nationwide network of 90 service points, provide a wide range of market services and contract packages to support operators' individual needs. Scania also has its own uk finance-provider, scania finance great britain limited. This company's team of in-house industry specialists provide support to the uk scania dealer network to ensure operators are able to acquire their vehicles in the most cost-effective manner in every case.