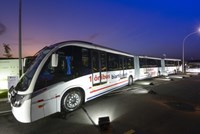 A new bus specifically tailored for the Latin American Bus Rapid Transit market is a showpiece of sustainable and cost-effective transport.
Scania recently unveiled a 28-metre bi-articulated bus with a passenger capacity of up to 270 people aimed specifically at the Latin American BRT market. "That's the same as removing 135 cars each carrying two passengers from the road," says Silvio Munhoz, Head of Bus and Coach Sales for Scania in Brazil.
The awesome megabus is powered by Scania's 360 hp front engine. With bodywork by Brazilian bus bodybuilders Caio or Neobus, the bus comes equipped with five doors for an efficient and smooth passenger flow. Despite its higher price tag, Scania calculates that the passenger-per-kilometre cost is 40 percent lower compared with a conventional articulated bus.
"This is very much in line with Scania's aim to provide sustainable transport," Munhoz adds. "As cities continue to grow, ensuring mobility is an increasing concern and efficient BRT systems are the most cost-effective means of providing public transport."
About Scania
With the aim to be the leader in sustainable transport, Scania build its business while creating value for customers, employees and society. Delivering customised heavy trucks, buses, engines and services, Scania focuses on efficient, low-carbon solutions that enhance customer profitability.