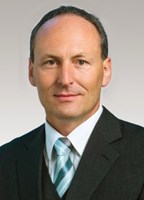 The Supervisory board of Schaltbau Holding AG has taken the decision to appoint Ralf Klädtke (51) as a further member of the company's Executive Board with effect from 1 August 2015. Mr Klädtke will be responsible for the Mobile Transportation Technology segment, which is based in Kassel.
Ralf Klädtke was most recently President & CEO of Airbus DS Optronics GmbH, responsible for the Optronics Cluster at Airbus Defence and Space. After graduating from the officers' academy of the German Air Force and studying aerospace technology, Ralf Klädtke initally worked as aircraft maintenance officer and as armament and planning officer. He then went on to become head of department for space transportation systems at the German Space Agency (DARA), head of department at MAN Technology, vice president at EADS and President & CEO at Carl Zeiss Optronics.
Dirk Löchner (54), who has been managing director at Gebr. Bode in Kassel since July 2009 and member of the Schaltbau Holding AG Executive Board since February 2012, responsible for corporate development, requested the Supervisory Board to prematurely terminate his current management contract to enable him to dedicate more time to matters outside the Group. The Supervisory Board has complied with this request. Dirk Löchner has tendered his resignation with effect from 18 May 2015. With his wealth of experience, Dirk Löchner will continue to serve both the company and the Group in an advisory capacity during a transition period.
Dr Jürgen Cammann continues as Spokesman of the Executive Board and Elisabeth Prigge as CFO.
With annual sales of around € 430 million and more than 2,600 employees, the Schaltbau Group is a leading supplier of components and systems in the field of transportation technology and the capital goods industry. The companies of the Schaltbau Group supply complete level crossing systems, train formation and signal technology, door and boarding systems for buses, trains and commercial vehicles, sanitary systems and interior fittings for railway vehicles, industrial brakes for container cranes and wind turbines and also high- and low-voltage components for rolling stock as well as for other fields of application.
About Schaltbau Holding AG
The Schaltbau Group develops and supplies systems and components for transportation technology and industrial applications worldwide.Global megatrends such as increasing urbanisation, the growth in world trade and rising environmental awareness are driving our sustainable, profit-oriented expansion.The Schaltbau Group's companies are making a firm contribution towards safe, low-emission mobility, the smooth transportation of goods and the widespread use of renewable energy.
With their specialised knowledge and a high degree of product innovation, the companies in our Group have worked hard to win the confidence of their customers and strive continually to strengthen their current market position through well-targeted research and development activities.Organic growth is the result of innovative products and solutions, the concentration on new target groups and greater market penetration.Moreover, the Schaltbau Group is growing through strategic acquisitions in its core markets, thus creating additional potential.
Sustainable growth not only benefits customers and employees, both in Germany and abroad, but also the Group's shareholders.