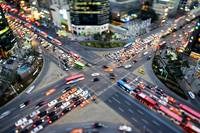 Scheidt & Bachmann has been awarded a contract to lead the transition of the Dutch Fare Collection System from a card-based system to an ID-based system, accepting EMV bank cards and other contactless identifiers for public transport throughout the Netherlands. The contract further includes the responsibility to maintain the existing back office that is in use already.
Trans Link Systems B.V. (Translink) which maintains the nationwide fare collection system in the Netherlands, called the OV-chipkaart, has contracted with Scheidt & Bachmann to deliver and implement this next generation back-office system and to provide comprehensive managed services for the current clearing house system. This project will migrate the existing card-based system to a next generation account-based / ID-based ticketing system.
Translink, the current service partner managing the OV-chipkaart, is processing more than 2 billion transactions per year. With more than 14 million active cards and over 60,000 devices active in the field, the Dutch Fare Collection System is an example for a multi operator, interoperable nationwide fare collection system. The system is working with an open architecture to ensure a multi-vendor policy. Currently, Translink is responsible for the certification of the solutions from all vendors to allow the interconnectivity of the system.
Through a customer focused, phased approach Scheidt & Bachmann and their partner, Hong Kong-based Octopus Applications Limited, will migrate the current clearing house system for card processing to a state-of-the-art platform, based on contactless identifiers. The EMV functionalities will be introduced in a pilot, followed by a full roll-out. Additional functionality will include a customer facing website in order to manage the customer's account plus allowing for mobile payments.
To execute the transition of the Dutch Fare Collection System to an ID-based ticketing system processing EMV bank cards Scheidt & Bachmann delivers the solution together with BlueBridge Transactions, an independent company specially founded for offering ID-based Ticketing solutions.
About Scheidt & Bachmann
A company with heritage and character.
Founded in 1872, Scheidt & Bachmann has become a global solutions provider. The company's worldwide success comes from its innovative vision and customer-oriented approach.
Founded in 1872
Number of employees: > 2,800
Developed from a mechanical engineering company to a global systems provider
Global market leader with future-proof system designs
Continuous investment in innovative production technologies
Continuous investment in highly qualified employees