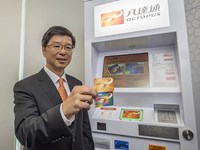 Following recent successful collaboration in securing the Automatic Fare Collection (AFC) system project in Budapest, Scheidt & Bachmann and Octopus Applications Limited (OAL) today announced their global partnership to offer market leading ID-based and card-based ticketing solutions.
The partnership will break new ground by providing advanced ticketing solutions required by public transport stakeholders who require secure, reliable and customer centric services at an economic whole life cost.
With the new ticketing solutions, people may travel on public transport using any contactless fare media they wish – such as bank cards, operator issued cards, staff cards, or mobile devices. Public transport operators can develop and enhance their businesses through intelligent data analytics and business rule management, to securely establish and modify customer-centric fare policy options, including capping and best fare charging.
The partnership combines both companies' strengths in ID-based and card-based ticketing. Scheidt & Bachmann is a leading global provider of fare collection systems and services for public transit, and an expert in managing complex fare systems and tariffs, multiple devices and managed services. It has full capabilities in designing and producing fare collection devices, and providing comprehensive after-sales services.
OAL perfectly complements this portfolio, as its sister company Octopus Cards Limited (OCL) operates one of the world's leading and most extensively accepted contactless smartcard payment systems, with expertise and proven track records in implementing and managing large-scale stored value payment systems, as both a solution provider and a scheme operator.
The resulting ID-based and card-based ticketing solutions integrate proven technology from both companies together with combined modules. A joint product management team will ensure on-going product development and the seamless integration of modules covering every aspect of the ID-based and card-based ticketing solutions. The back-office core elements complement other data driven modules, such as Mobile Ticketing, Media Management, Customer Web Portal, Customer-Relationship-Management (CRM), Business Intelligence (BI) and Clearing House, needed for today's connected world.
The Scheidt & Bachmann and OAL partnership has already given the solutions considerable momentum. With the companies' strong reputations for quality and experience, their joint mission is to provide the best value and future-proof fare collection solution, at the lowest risk to transport operators throughout the full lifecycle.
About Scheidt & Bachmann
A company with heritage and character.
Founded in 1872, Scheidt & Bachmann has become a global solutions provider. The company's worldwide success comes from its innovative vision and customer-oriented approach.
Founded in 1872
Number of employees: > 2,800
Developed from a mechanical engineering company to a global systems provider
Global market leader with future-proof system designs
Continuous investment in innovative production technologies
Continuous investment in highly qualified employees