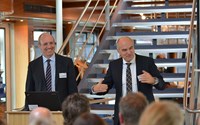 "Next stop – 2020!" – On 17 September 2015, around 50 representatives of public transport operators from all over Switzerland met to discuss the future of public transport, focusing on the related opportunities and prospects provided by integrated planning, operating, sales and customer information systems. In particular, the participants engaged in intensive discussion on how operators can deliver efficient services with the existing infrastructure by making intelligent use of the available information on networks, vehicles and passengers amid rising demand for public transport. Invitations to the specialist conference were issued by Scheidt & Bachmann and IVU Traffic Technologies AG.
In several presentations, public transport experts gave in-depth insight into the current situation and highlighted the benefits of integrated solutions for operators. For instance, Peter Moser, former director of Transport Publics Neuchâtelois (TN), reported on the various system landscapes in Swiss public transport and the advantages of holistic system approaches. In addition, the transport managers discussed the current status and the further development of the new public transport connections and the future pricing system with representatives of the NOVA project.
Andreas Balzli, senior project manager for public transport projects and complex IT projects in Switzerland, and Martin Koblet, project manager and head of management systems at BLT Baselland Transport AG, shared their observations from practical experience. The latter's presentation focused on the advantages and outcomes of daily use of integrated staff roster optimisation.
The conference was held on the business ship MS Schilthorn on Lake Thun. Radio and TV presenter Jenni Herren helped to create a relaxed atmosphere. Overlooking the Alpine backdrop of the Bernese Highlands, the participants talked freely about their experiences and expectations regarding the use of IT systems. After working through the conference agenda, the guests had the opportunity to cultivate contacts and chat with their colleagues on a tour of the lake.
"These days, integrated planning, operating, information and sales systems are essential to efficient use of all resources in public transport. The large attendance shows how important this issue is to transport operators", said Matthias Augustyniak, Managing Director of Scheidt & Bachmann GmbH. Dr Helmut Bergstein, a member of the Management Board of IVU Traffic Technologies AG, added: "As experts in integrated IT systems, many companies turn to us when they need to make their operations more efficient. With our specialist expertise, we can help public transport companies to find the right solution for their individual requirements".
About Scheidt & Bachmann
A company with heritage and character.
Founded in 1872, Scheidt & Bachmann has become a global solutions provider. The company's worldwide success comes from its innovative vision and customer-oriented approach.
Founded in 1872
Number of employees: > 2,800
Developed from a mechanical engineering company to a global systems provider
Global market leader with future-proof system designs
Continuous investment in innovative production technologies
Continuous investment in highly qualified employees