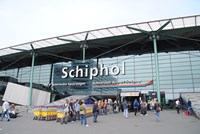 Amsterdam Airport Schiphol has been chosen as the winner of the Business Traveller Award by British business travellers. This marks the 26th time that Schiphol has come out on top in the category 'Best European Airport'.
Schiphol Group Vice President & CCO Maarten de Groof said: 'We're happy that British business travellers have once again, for the twenty-sixth time, named us the best airport in Europe. There are 125 flights between Schiphol and Great Britain each day, travelling to 26 airports in the UK. Great Britain was our single largest destination in 2014, involving some 8.2 million passengers. Within that passenger total, British business travellers constitute a vital target group for Mainport Schiphol.'
Schiphol constructs, converts and connects
In an effort to strengthen its position and ensure that it can continue to offer its passengers and airlines a top-quality product, Schiphol is making substantial infrastructural investments. Take our new Central Security, introduced this year in order to offer passengers greater comfort and a more efficient process. We are also working hard to complete the renovation of Departure Lounge 2, which will similarly prioritise passenger comfort.
Business Traveller Award
Each year, British readers of Business Traveller magazine choose the winners of the Business Traveller Awards. The magazine was launched in 1976 and has developed into an authoritative source of information read by business travellers all over the world.
About Schiphol Group
Schiphol Group is an enterprise that operates airports in the Netherlands, conducts international activities and participates in airports abroad. Operating Amsterdam Airport Schiphol is the Group's largest activity. Schiphol Group is the owner and operator of Rotterdam The Hague Airport and Lelystad Airport, and holds a majority share in Eindhoven Airport.
Of Europe's main hub airports, over the years Amsterdam Airport Schiphol has grown into Europe's Preferred Airport, with direct connections to 319 destinations. In 2014 the number of travellers served by Schiphol grew by 4.6% to almost 55 million, and 1.6 million tonnes of cargo were handled. More than five hundred companies are based at Schiphol, employing around 65,000 people in total. The activities at and around Schiphol are an important driver of the sustainable growth of the Dutch economy.
As a whole, the Group welcomed nearly 61 million passengers at its Dutch airports. The number of travellers served by Rotterdam The Hague Airport and Eindhoven Airport grew by 6.1% and as much as 16% respectively.