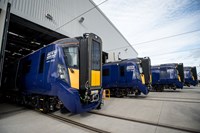 The first of ScotRail's new electric fleet has made its opening journey this morning.
The new Hitachi Class 385 Express trains, part of a ScotRail's £475m rolling stock investment, will run on the Glasgow Queen Street to Edinburgh Waverley via Falkirk High route from today, with the remainder of the rolling stock to be phased in over the course of the coming months.
Around 100,000 extra seats are planned to be provided to passengers every weekday, as well as just 42 minutes in journey time between Glasgow and Edinburgh.
The investment is part of the £858m electrification of the line between Edinburgh and Glasgow by Network Rail Scotland.
ScotRail Alliance managing director Alex Hynes said: "I am delighted that customers will be able to travel on our new Hitachi class 385 electric trains from next week. This is a significant moment as we work to build the best railway Scotland has ever had."
"The investment we are making will deliver faster journeys, more seats, and better services for our customers."
Roy Brannen, Transport Scotland chief executive, said: "It's great to see the investment in the class 385 fleet come to fruition with their imminent entry into service. This is another example of partnership working to help make Scotland's railway the best it has ever been."
"I am sure passengers using these trains will enjoy the extra capacity and improved facilities they will bring."
Karen Boswell, managing director of Hitachi Rail Europe, said when passengers step on board the train they'll find it "light, spacious and modern with loads of more seats."
Additional improvements to services following the investment include upgraded stations along the route and the redevelopment of Glasgow Queen Street and the electrification of the Central Belt including the route between Glasgow/Edinburgh and Stirling/Dunblane/Alloa.
About Rail Technology Magazine
Rail Technology Magazine is the UK rail industry's independent technical trade journal, covering the latest technology news and developments across the UK's rail network, as well as in-depth analysis of rail policy, operations, management and procurement. railtechnologymagazine.com brings you breaking news and lively blogs and comment, plus exclusive content from the print edition of the magazine, which features interviews with leading decision-makers in rail, technical articles, previews, event coverage, news, views, comment and more.