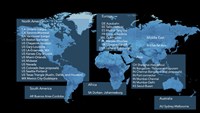 Last week we announced the 35 semifinalists for the Hyperloop One Global Challenge, an initiative to identify cities and regions that would benefit the most from a Hyperloop One system and solicit proposals from local champions on the ground. While we have our own business development efforts underway, we wanted to hear from the world for their best ideas and routes.
Since we kicked off the Challenge in May 2016, the interest has been fantastic. We received 2600+ registrants, which were narrowed down to 60 full applications, of which the 35 strongest made it into the semifinal round. Twenty of these semifinalists came with letters of intent from government agencies. The teams hail from 17 countries and every continent was represented except Antarctica (not sure why anyone would rule out high-speed travel across the ice.)
The US currently has 11 entries, India has five, the UK has four. The semifinalists will now have a chance to showcase their proposals at three upcoming events: February 28 in New Delhi, India, April 6 in Washington D.C., and April 27 in London, UK. Contestants in each city will present models, maps, renderings and videos of their Challenge entries.
We heard you loud and clear: You want Hyperloop!
The enthusiasm and hard work that went into so many proposals told us that the world is ready for a new mode of transportation. People love the potential economic and social benefits that come from fast, clean and safe travel. Over the next couple months, we will be exploring these proposals and regions of interests through articles on our blog and at events scheduled throughout the world.
Below is a list of routes that made it into the semifinal round (with abbreviations for country codes):
AR Buenos Aires-Cordoba
AU Sydney-Melbourne
CA Ontario (cargo)
CA Toronto-Montreal
CA Vancouver (cargo)
CH Shanghai-Hangzhou
DE Autobahn
EE Tallin-Helsinki
ES Madrid-Tangiers
FR Corsica-Sardinia
IL Eilat-Tel Aviv
IN Bangalore- Thiruvananthapuram
IN Chennai-Bangalore (two proposals)
IN Port connector
IN Mumbai-Chennai
IN Mumbai-Delhi
KS Seoul-Busan
MX Mexico City-Gudalajara
NL Dutch Loop
PL Warsaw-Wroclaw
About Hyperloop One
Hyperloop One is reinventing transportation by developing the world's first Hyperloop, an integrated structure to move passengers and cargo between two points immediately, safely, efficiently, and sustainably.
Our team has the world's leading experts in engineering, technology and transport project delivery, working in tandem with global partners and investors to make Hyperloop a reality, now. Headquartered in Los Angeles, the company is led by CEO Rob Lloyd and was co-founded by Executive Chairman Shervin Pishevar and President of Engineering Josh Giegel.