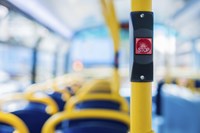 Seon, leading provider of mobile video surveillance and fleet management solutions, is pleased to announce the launch of its inView 360 Around Vehicle Monitoring (AVM) System, which eliminates dangerous vehicle blind spots that threaten student and pedestrian safety, into the School Bus and Transit fleet markets.
"Traditional mirror and rear vision camera technology still leave students and pedestrians walking near a school or transit bus vulnerable to dangerous blind spots, " says Tom Gill, President of Seon. "inView 360 gives drivers a real-time 360 degree bird's eye view of their surroundings to prevent accidents and improve pedestrian safety."
Four cameras strategically placed around the vehicle capture a 195 degree ultra-wide-angle view of the front, rear, driver and curb side of the vehicle. These four views are blended and stitched together in an Electronic Control Unit and then displayed to the driver in real-time as a single 'top-view' image on a dash-mounted monitor. A split screen shows drivers both the bird's eye view around the vehicle, plus a second view that changes depending on operating conditions. For example, when the vehicle is in reverse, the rear camera view displays on the right side of the monitor with colored guidelines to help drivers navigate tight parking spots.
When combined with a digital video recorder, the views on the display can be recorded and reviewed by fleet managers to easily identify the cause of an accident. Playback software displays multiple camera angles and audio synchronized with vehicle telemetry data such as brake signals, vehicle speed, and GPS location giving fleet managers verifiable evidence to prove false claims and reduce insurance costs.
"The desire to improve driver visibility is the core value behind the development of the inView 360 AVM system," adds Kevin Brady, inView 360 Product Manager. "If we can give drivers a better view of their surroundings, they can avoid costly accidents and prevent vehicle damage, saving the lives of pedestrians and reducing fleet liability and insurance costs."
The inView 360 system is also available for commercial and emergency vehicles. To learn more visit www.seon.com/products/collision-avoidance-systems/inview-360.
About Safe Fleet
Headquartered in Belton, MO, Safe Fleet owns a portfolio of brands that provide safety solutions to fleet vehicle manufacturers and operators around the world. These brands serve five major markets including: emergency services, bus and rail, truck and trailer, utility, and industrial. With 1,000 employees, the Safe Fleet family of brands operates over 500,000 square feet of manufacturing space and targets markets with increasing demand for operator, passenger, and pedestrian safety. For more information about Safe Fleet please visit www.safefleet.net.
About Seon
Seon is the leading manufacturer of video surveillance and fleet management solutions for school and transit buses. Independent research firm, IHS Group, has consistently ranked Seon as the #1 provider of mobile surveillance equipment to the bus and coach industry in their biennial report on the mobile surveillance industry from 2007 to 2015.