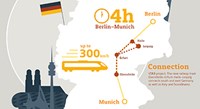 As part of the 8th German Unity Transport Project (VDE 8), Siemens and its consortium partner Kapsch CarrierCom Deutschland GmbH are currently equipping the new section from Ebensfeld via Erfurt to Halle/Leipzig with railway control, signaling and GSM-R technology.
Passenger operation has now commenced on the first stage from Erfurt to Halle/Leipzig. As a world first, conventional fixed signals are no longer being used. Communication between the vehicle and the line is transmitted via the GSM-R digital Global System for Mobile Communications – Rail. This permits speeds of up to 300 km/h and enables trains to travel at shorter intervals, thus increasing the throughput.
The new construction and expansion is necessary in order to be able to handle continuously increasing traffic volume, and to provide a competitive and environmentally friendly alternative to road and air travel. Siemens has equipped the entire 123 kilometer-long new section with the European Train Control System (ETCS) Level 2. Its outstanding feature is constant communication between the vehicle and the line. With this system, train drivers no longer receive their commands – such as speed restrictions – via signals, but from a radio block center using the GSM-R digital railway radio system. The on-board computer determines the position and direction of the train, and regularly transmits this information to the radio block center via GSM-R. The improvement over conventional train control systems is that the train driver no longer needs to brake before each signal in order to pick up the new movement authorities for the next line section. Benefits: ETCS Level 2 not only reduces infrastructure costs to a significant extent, it also enhances line capacity thanks to anticipation and increases the permissible speed, thus reducing journey times.
The VDE8 rail transport project includes the new construction and extension of sections with an overall length of approximately 500 kilometers between Nuremberg, Erfurt, Halle, Leipzig and Berlin. Once completed in 2017, the journey time between Munich and Berlin will be reduced to less than four hours. The construction project is divided into a number of sub-projects (VDE 8.1 to VDE 8.3): The new and upgraded Nuremberg-Erfurt route through the Thuringian Forest (VDE 8.1) cuts the journey time between cities in the South and East dramatically - by up to 1 hour and 40 minutes. The high-speed line between Erfurt–Leipzig/Halle (VDE 8.2) will mean improved speeds in the East-West direction. For example, the journey between Dresden and Frankfurt will be up to half an hour faster. Travel time between Leipzig/Halle and Berlin has already halved since 2006 when the upgraded route (VDE 8.3) became operational, and is now approximately one hour.
About Siemens AG
Siemens AG (Berlin and Munich) is a global technology powerhouse that has stood for engineering excellence, innovation, quality, reliability and internationality for more than 165 years. The company is active in more than 200 countries, focusing on the areas of electrification, automation and digitalization. One of the world's largest producers of energy-efficient, resource-saving technologies, Siemens is No. 1 in offshore wind turbine construction, a leading supplier of gas and steam turbines for power generation, a major provider of power transmission solutions and a pioneer in infrastructure solutions as well as automation, drive and software solutions for industry. The company is also a leading provider of medical imaging equipment – such as computed tomography and magnetic resonance imaging systems – and a leader in laboratory diagnostics as well as clinical IT. In fiscal 2015, which ended on September 30, 2015, Siemens generated revenue of €75.6 billion and net income of €7.4 billion. At the end of September 2015, the company had around 348,000 employees worldwide. Further information is available on the Internet at www.siemens.com.