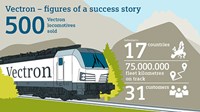 Siemens has sold its 500th electric Vectron locomotive. The jubilee locomotive was ordered by European Locomotive Leasing (ELL), a provider of full-service leasing of locomotives and currently the biggest Vectron customer. The follow-up order from ELL is for eight multisystem locomotives that will be leased to the Czech railway carrier České Dráhy for passenger service on the Prague-Berlin route. A total of 507 electric Vectron locomotives have been ordered to date.
"This milestone highlights the success story and reliable service of our Vectron locomotives throughout Europe. We've already convinced 31 customers in 14 countries with our flexible platform and customer-tailored equipment packages," said Jochen Eickholt, CEO of Siemens Mobility Division.
The Vectron fleet has accumulated more than 75 million kilometers of service so far. The locomotives are currently certified for operation in Austria, Bulgaria, Croatia, the Czech Republic, Finland, Germany, Hungary, Italy, Norway, Poland, Romania, Serbia, Slovakia, Slovenia, Sweden, Switzerland and Turkey.
About Siemens
Siemens AG (Berlin and Munich) is a global technology powerhouse that has stood for engineering excellence, innovation, quality, reliability and internationality for more than 165 years. The company is active in more than 200 countries, focusing on the areas of electrification, automation and digitalization. One of the world's largest producers of energy-efficient, resource-saving technologies, Siemens is a leading supplier of efficient power generation and power transmission solutions and a pioneer in infrastructure solutions as well as automation, drive and software solutions for industry. The company is also a leading provider of medical imaging equipment – such as computed tomography and magnetic resonance imaging systems – and a leader in laboratory diagnostics as well as clinical IT. In fiscal 2016, which ended on September 30, 2016, Siemens generated revenue of €79.6 billion and net income of €5.6 billion. At the end of September 2016, the company had around 351,000 employees worldwide.