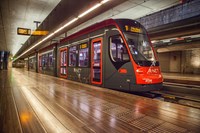 For Dutch tram operator HTM, today marks the start of passenger services with brand new Siemens trams in The Hague, Netherlands.
The first Avenio will run on line 2, which connects the western suburb of Kraayenstein with Leidschendam in the northeast via The Hague's main station. The Siemens trams will also gradually progress to operating on lines 1, 9, 15 and 17, with test runs already being conducted on the next route earmarked for Avenio, line 11. HTM has ordered a total of 60 Avenio trams from Siemens.
"Before commencing passenger services, we carried out extensive tests, as we make no compromise when it comes to safety. I am very satisfied with the results, and very proud of our employees for their hard work and dedication. I would like to thank the metropolitan region of Rotterdam The Hague (MRDH) and all the local authorities involved for making this step forward possible. I would also like to take the opportunity to express my appreciation to the manufacturer, Siemens, for having achieved these results. Siemens has built the trams according to our requirements and wishes – and it is now time for our passengers to take over," says Jaap Bierman, CEO of HTM.
"The Hague is the second city to operate passenger services with our trams. The test runs have already shown that the Avenio is well-equipped for this city's tram network, which is in service more than 150 years. By virtue of its exceptionally smooth and quiet operating profile, it is ultimately passengers who will benefit the most from the Avenio," adds Sandra Gott-Karlbauer, CEO of Urban Transport at Siemens. 
The Hague is carrying out extensive structural work along the lines to enable operation of the new low-floor trams, with tracks being renewed and all stops to receive new, specially adapted tram platforms. More than half of the tracks and stops have already been converted to accommodate the new trams.
About Siemens AG
Siemens AG (Berlin and Munich) is a global technology powerhouse that has stood for engineering excellence, innovation, quality, reliability and internationality for more than 165 years. The company is active in more than 200 countries, focusing on the areas of electrification, automation and digitalization. One of the world's largest producers of energy-efficient, resource-saving technologies, Siemens is No. 1 in offshore wind turbine construction, a leading supplier of combined cycle turbines for power generation, a major provider of power transmission solutions and a pioneer in infrastructure solutions as well as automation, drive and software solutions for industry. The company is also a leading provider of medical imaging equipment – such as computed tomography and magnetic resonance imaging systems – and a leader in laboratory diagnostics as well as clinical IT. In fiscal 2014, which ended on September 30, 2014, Siemens generated revenue from continuing operations of €71.9 billion and net income of €5.5 billion. At the end of September 2014, the company had around 343,000 employees worldwide on a continuing basis.