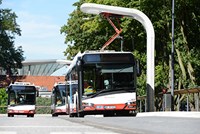 Hamburger Hochbahn AG puts three all-electric buses into service
Charging technology from Siemens ensures interoperability
Hamburger Hochbahn AG will begin operation of three additional e-buses today on its "innovation line" 109. The battery-powered buses built by Solaris will be charged at the same Siemens charging stations that also power the plug-in hybrid buses from Volvo serving Hamburg since the end of 2014. Siemens is thus the first supplier worldwide to provide a charging infrastructure for e-buses that ensures interoperability for vehicles from different manufacturers.
Each of the two charging terminals has a capacity of 300 kW and two charging stations. The stations can provide the buses with enough energy to enable them to operate a full day from terminal to terminal on Line 109. The charging operation takes only around six minutes. The charging stations are located in the Bus-Port (ZOB) in downtown Hamburg, and in Alsterdorf.
The charging process is per open international standards IEC 61851 and ISO 15118 that are the basis for e-bus charging systems. The open standards enable vehicles from different manufacturers to use the same charging system. This solution allows operators to select their e-buses independently of the charging infrastructure and ensures their interoperability.
The three battery-powered buses from Solaris are equipped with the onboard charging system from Siemens designed for the quick-charge stations. Having both the onboard equipment and charging infrastructure provided by one supplier not only makes interoperability possible, but optimally harmonizes the systems on the basis of open international standards. By equipping the buses with Siemens charging equipment, vehicles of every type and from different manufacturers can easily be integrated into one system.
About Siemens
Siemens AG (Berlin and Munich) is a global technology powerhouse that has stood for engineering excellence, innovation, quality, reliability and internationality for more than 165 years. The company is active in more than 200 countries, focusing on the areas of electrification, automation and digitalization. One of the world's largest producers of energy-efficient, resource-saving technologies, Siemens is No. 1 in offshore wind turbine construction, a leading supplier of gas and steam turbines for power generation, a major provider of power transmission solutions and a pioneer in infrastructure solutions as well as automation, drive and software solutions for industry. The company is also a leading provider of medical imaging equipment – such as computed tomography and magnetic resonance imaging systems – and a leader in laboratory diagnostics as well as clinical IT. In fiscal 2015, which ended on September 30, 2015, Siemens generated revenue of €75.6 billion and net income of €7.4 billion. At the end of September 2015, the company had around 348,000 employees worldwide.