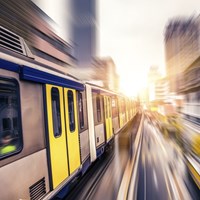 Long Term Evolution (LTE) radio technology to be used for the first time
Better performance than WiFi
Commissioning scheduled for the end of 2017
Siemens has received an order from the Nanjing Metro Corporation to equip a 52-kilometer line with the Trainguard MT automatic train protection system for the Nanjing-GaoChun LuGao section. Siemens will be using LTE (Long Term Evolution) radio technology for the first time here in order to transfer mass data in real time. The line links six stations in the Gaochun district in the south with the center of the megacity. Following commissioning at the end of 2017, trains will run at a top speed of 120 km/h on this stretch.
The introduction of the mobile radio standard Long Term Evolution (LTE) is the next stage of mobile communication, and offers better performance than WiFi. As the communication transfer technology between train and line for CBTC (Communication-based Train Control), CCTV (Closed Circuit Television) and passenger information LTE has advantages such as greater data bandwidth, service quality assurance for multiple services and higher interference suppression performance.
China's megacities alone are home to more than 260 million people. These gigantic conurbations have recently undergone rapid growth of around two percent per year, and are suffering increasing traffic problems caused by the soaring rate of car use. Hence the correspondingly strong demand for solutions for the further development of urban rail transport. In the long term more than ten metro and mass transit lines will be built in Nanjing. Five of the current lines in operation or in construction are already equipped with Siemens rail automation technology.
Siemens can look back on a long partnership with the Nanjing Metro Corporation. Siemens equipped metro line 1, which started running in 2005 and is now 38 kilometers long, as well as metro line 2 in 2010. Line 2 serves 26 stations and forms the east-west tangent of the city of Nanjing in eastern China. Following the extension of the city's metro with line 2, the rail network now covers 76 kilometers. Siemens also equipped lines 3 and 10 with signaling and control technology. These lines have been running since April 2015 and July 2014. Commissioning of the 37- kilometer Ninghe Intercity Line, which Siemens will equip with the CBTC Trainguard MT train protection system, is scheduled for September 2017.
About Siemens
Siemens AG (Berlin and Munich) is a global technology powerhouse that has stood for engineering excellence, innovation, quality, reliability and internationality for more than 165 years. The company is active in more than 200 countries, focusing on the areas of electrification, automation and digitalization. One of the world's largest producers of energy-efficient, resource-saving technologies, Siemens is a leading supplier of efficient power generation and power transmission solutions and a pioneer in infrastructure solutions as well as automation, drive and software solutions for industry. The company is also a leading provider of medical imaging equipment – such as computed tomography and magnetic resonance imaging systems – and a leader in laboratory diagnostics as well as clinical IT. In fiscal 2016, which ended on September 30, 2016, Siemens generated revenue of €79.6 billion and net income of €5.6 billion. At the end of September 2016, the company had around 351,000 employees worldwide.