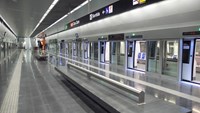 In Barcelona, the extension of the driverless metro Line 9 has gone into operation. The some 20-kilometer-long line connects the university in the center of the city with Terminal 1 of the El Prat de Llobregat airport. Siemens equipped the line with an automatic train control system for driverless operation. The wireless system for automated train control provides real-time data on train location and speed, increasing headway and passenger capacity.
At more than 30 kilometers long and with 23 stations, Line 9 runs through the whole city of Barcelona, making it the longest driverless metro line in Europe. Five years ago, the first eleven kilometers of the line were opened for business, and now the continuation of the line to the airport is another 20.7 kilometers long. Passengers can board and exit trains at 15 stations along the way. Siemens supplied the Trainguard MT automatic train protection system, using wireless CBTC technology (communications-based train control) to achieve fully automatic operation. Special platform screen doors provide added safety: Like shuttle trains at larger airports, glass doors separate the platform from the train. The doors do not open until the train has stopped at the platform.
The line is designed to accommodate some 330,000 passengers daily and offers a maximum transport capacity of some 165 million passengers a year. Currently, a further 18-kilometer-long stretch of the line is under construction. Once complete, the line will have a total length of about 50 kilometers, only four kilometers of which are above ground.
Siemens has equipped more than 300 track kilometers worldwide with signaling systems for driverless operation, making it the market leader in this field. In addition to Line 9 in Barcelona, Siemens also operates the L Line in New York, Line 4 in São Paulo, Brazil, and Lines 1, 14 and 4 in the Paris metro with this system.
About Siemens AG
Siemens AG (Berlin and Munich) is a global technology powerhouse that has stood for engineering excellence, innovation, quality, reliability and internationality for more than 165 years. The company is active in more than 200 countries, focusing on the areas of electrification, automation and digitalization. One of the world's largest producers of energy-efficient, resource-saving technologies, Siemens is No. 1 in offshore wind turbine construction, a leading supplier of gas and steam turbines for power generation, a major provider of power transmission solutions and a pioneer in infrastructure solutions as well as automation, drive and software solutions for industry. The company is also a leading provider of medical imaging equipment – such as computed tomography and magnetic resonance imaging systems – and a leader in laboratory diagnostics as well as clinical IT. In fiscal 2015, which ended on September 30, 2015, Siemens generated revenue of €75.6 billion and net income of €7.4 billion. At the end of September 2015, the company had around 348,000 employees worldwide.