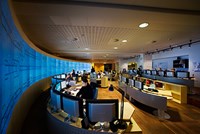 Siemens is currently equipping the entire 170 kilometers of the dual-track commuter rail network with a Communications-Based Train Control System. The project is divided into six phases. The first phase; the newly opened 25 kilometer line runs from the suburb of Hillerod in the north to Jaegersborg east of the capital and will be used by more than 70.000 commuters a day. Once the complete network is open, up to 84 trains an hour will travel on the core network - equivalent to more than 100 million passengers per year. The remaining phases will enter passenger service in the coming years.
"Replacing the existing signaling system - parts of which are more than 60 years old - will significantly increase capacity and reliability. The S-Bane will become a more attractive option for commuters and private transport will be reduced. At the same time, the state-of-the-art systems will cut energy consumption", says Jochen Eickholt, CEO of the Siemens Mobility Division.
Copenhagen's S-Bane is the backbone of the capital's public mass transit network. It carries around 350,000 passengers a day - and that number is growing all the time. This reflects the growth in the metropolitan area around the Danish capital where more than one fifth of the entire population of Denmark now lives. Siemens will equip Copenhagen's entire commuter rail network with the Trainguard MT train control system using wireless CBTC technology (communications-based train control) to achieve automatic operation. This has made it possible to reduce train headways from 120 seconds to 90 seconds within the inner-city area.
Initially, the Copenhagen system will operate in semi-automated mode. This means that the S-Bane trains will be controlled automatically to a large extent but there will still be driver involvement. Siemens will also supply electronic interlockings (Trackguard Sicas ECC), on-board units for a total of 135 S-Bane trains as well as the operations control system (Controlguide OCS) that monitors traffic and controls interlockings and infrastructure.
About Siemens
Siemens AG (Berlin and Munich) is a global technology powerhouse that has stood for engineering excellence, innovation, quality, reliability and internationality for more than 165 years. The company is active in more than 200 countries, focusing on the areas of electrification, automation and digitalization. One of the world's largest producers of energy-efficient, resource-saving technologies, Siemens is No. 1 in offshore wind turbine construction, a leading supplier of gas and steam turbines for power generation, a major provider of power transmission solutions and a pioneer in infrastructure solutions as well as automation, drive and software solutions for industry. The company is also a leading provider of medical imaging equipment – such as computed tomography and magnetic resonance imaging systems – and a leader in laboratory diagnostics as well as clinical IT. In fiscal 2015, which ended on September 30, 2015, Siemens generated revenue of €75.6 billion and net income of €7.4 billion. At the end of September 2015, the company had around 348,000 employees worldwide.