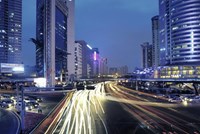 Satellite-based prioritization system for the Icelandic capital
Green lights for public transport and emergency vehicles
More punctual buses, greater road traffic safety, and less CO2 pollution
Siemens is supplying the satellite-based prioritization system Sitraffic Stream to the Icelandic capital, Reykjavik. The system ensures that traffic lights automatically turn green for emergency and urban public transport vehicles at road intersections. The City of Reykjavik and the Icelandic Road and Coastal administration (Vegagerd rikisins) are sharing the system, which has initially been installed at six selected intersections in the center of the capital in cooperation with the local sales partner Smith & Norland.
Over the coming months, around 50 fire trucks and ambulances are due to be fitted out with on-board units (OBUs). Similarly, the local bus operator will be equipping approximately 120 vehicles. Using GPS, the OBUs calculate a vehicle's position to the nearest five meters and transmit this information to the control center. When available virtual signaling points are passed, the control center switches the lights to green. As soon as the vehicle has crossed the intersection, the lights switch back to normal operation again.
Until now, the only prioritization solutions available for buses and emergency vehicles were of the analog variety, and it was all but impossible for smaller towns and communities to put these solutions into practice on account of high implementation costs. Sitraffic Stream (Simple Tracking Realtime Application for Managing traffic lights and passenger information), on the other hand, is completely digital and merely requires installing a small OBU with an integrated GPS and GPRS antenna in the vehicle. Unlike for conventional systems, the cost of Sitraffic Stream for communities is manageable, as expensive roadside installations are not required.
Additionally, the position data transmitted is used to provide up-to-date bus departure times at stops in real time. This is a real bonus for passengers as the punctuality of public transport is improved and buses run more reliably. What's more, CO2 pollution in the cities is reduced as buses don't get held up in traffic as much and thus simultaneously offer a real alternative to private transport. The fire service also benefits from Sitraffic Stream as in the event of an emergency, fire trucks no longer have to go through red lights at intersections.
In Böblingen, a town to the south of Stuttgart, Sitraffic Stream has been successfully prioritizing fire trucks and speeding up public transport since 2014. As part of a pilot project, signaling points were set up at four intersections and OBUs installed in two fire trucks. Everyone involved was so impressed with the success of this project that the city is now implementing Sitraffic Stream across the board.
About Siemens
Siemens AG (Berlin and Munich) is a global technology powerhouse that has stood for engineering excellence, innovation, quality, reliability and internationality for more than 165 years. The company is active in more than 200 countries, focusing on the areas of electrification, automation and digitalization. One of the world's largest producers of energy-efficient, resource-saving technologies, Siemens is No. 1 in offshore wind turbine construction, a leading supplier of gas and steam turbines for power generation, a major provider of power transmission solutions and a pioneer in infrastructure solutions as well as automation, drive and software solutions for industry. The company is also a leading provider of medical imaging equipment – such as computed tomography and magnetic resonance imaging systems – and a leader in laboratory diagnostics as well as clinical IT. In fiscal 2015, which ended on September 30, 2015, Siemens generated revenue of €75.6 billion and net income of €7.4 billion. At the end of September 2015, the company had around 348,000 employees worldwide