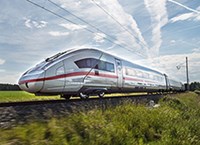 Dr. Rüdiger Grube, Chairman of the Management Board and CEO of Deutsche Bahn, and Alexander Dobrindt, German Minister for Transportation and Digital Infrastructure, presented the ICE 4, Deutsche Bahn's new long-distance train, to the public today.
"The ICE 4 ushers in a new era: it is the backbone of our future long-distance transport system. We are planning to expand our range of long-distance rail services by 25 percent by the year 2030, linking up more and more cities and regions. This new flagship will make a lasting contribution towards the future viability of the DB Group," commented Dr. Grube, who was accompanied by Berthold Huber, DB Management Board Member for Traffic and Transport, Birgit Bohle, Chairwoman of the Management Board of DB Fernverkehr AG and Dr. Roland Busch, Member of the Managing Board of Siemens AG.
Minister for Transportation Alexander Dobrindt said, "25 years ago, the ICE heralded the dawn of a new mobility era and quickly became an export hit. Today, the ICE 4 is the most modern and customer-friendly upgrade of high-speed train travel, thanks in part to free WiFi in the first and second class cars. I am confident that the ICE 4, like its predecessors, will become another showcase for quality made in Germany and an example of Deutsche Bahn's innovative leadership. The ICE 4 is a key step towards the digital railway, a modern mode of transport for the Gigabit Society."
Birgit Bohle: "The ICE 4 sets new standards for our passengers: ergonomic seats, plenty of space for baggage, an elegant restaurant car and an innovative lighting scheme ensure a high level of comfort for passengers. This is the first ICE on which passengers can take their bicycles. Thanks to a completely revamped family area and parent-and-child compartment, families can now look forward to an even more relaxing journey."
Dr. Roland Busch: "The ICE 4 sets new standards for rail travel in Germany. It contains the entire expertise and energy of our engineers. The train features numerous technical innovations: a completely new traction system, significantly lower energy consumption and more comfort for passengers. Moreover, the project is right on schedule, thanks to the hard work put in by Siemens and Deutsche Bahn."
The 12-car ICE 4 can run at a top speed of 250 kilometers per hour and has an overall length of 346 meters. It has a total of 830 seats, 205 of which are in first class and 625 in second class. Its low weight and optimized aerodynamic design reduce energy consumption per seat by 22 percent compared with a modernized ICE 1. The innovative traction system uses power cars and permits flexible train formation.
Long introductory phase guarantees quality
The ICE 4 stands for a new dimension of quality assurance. This is the first high-speed train in Europe to undergo an introductory phase that will last several months before it goes into regular service in December 2017.
The reason for this is that DB wishes to test the reliability of the train's technical components and systems under real operating conditions. Before this phase even starts, the train will already have run 250,000 test kilometers in the course of the project. During the introductory phase, which is about to begin in late fall, two ICE 4 trains will be used occasionally on the Hamburg–Hanover–Nuremberg–Munich line in Germany.
Project on schedule thanks to new approval procedure
The ICE 4 will be approved on the basis of the new procedures in force in Germany, in which technical standards are specified for a period of seven years. In addition to the Federal Railway Authority, various other bodies are now authorized to issue test certificates. With the exception of two test items, the Federal Railway Authority merely checks that the documents are complete in such cases. The countless documents and certification procedures required for the ICE 4 project could therefore be spread amongst various test service providers at an early stage, enabling compliance with the planned time schedule.
DB and Siemens assume that approval will be granted in time for the introductory phase. Siemens is the general contractor for the ICE 4 trains and responsible for the approval process. Bombardier Transportation contributes a supplier share of around 30 percent.
Improved passenger comfort
Many new features guarantee a high standard of comfort and relaxing journey for passengers. These include a modern passenger information system which will in the future display real-time information about the course of the journey and the connecting trains available at each station. The air-conditioning system has been improved and is designed to cope with temperatures of up to 45 degrees Celsius. The newly designed parent-and-child compartment and family area are spacious, turning a train journey into a fun experience. The ICE 4 has space for eight bicycles and four wheelchairs. Two on-board hoists ensure that wheelchair users can board and leave the train at all stations.
The innovative lighting scheme is adjusted according to the time of day and creates a pleasant atmosphere inside the cars. Clear signage for the different train areas makes it easier for passengers to find their way around the train, and seat numbers and reservation signs are now integrated in the seat headrests. The ICE 4 already has state-of-the-art WiFi and telephone technology, which DB will have installed in its entire ICE fleet by the end of the year. This means that passengers in second-class cars now also have access to WiFi.
DB has ordered delivery the first of 130 trains from the total of up to 300 trains covered by the framework agreement signed with Siemens in May 2011. With a volume of roughly €5.3 billion, this is the largest investment in rolling stock in the history of Deutsche Bahn.
About Siemens
Siemens AG (Berlin and Munich) is a global technology powerhouse that has stood for engineering excellence, innovation, quality, reliability and internationality for more than 165 years. The company is active in more than 200 countries, focusing on the areas of electrification, automation and digitalization. One of the world's largest producers of energy-efficient, resource-saving technologies, Siemens is No. 1 in offshore wind turbine construction, a leading supplier of gas and steam turbines for power generation, a major provider of power transmission solutions and a pioneer in infrastructure solutions as well as automation, drive and software solutions for industry. The company is also a leading provider of medical imaging equipment – such as computed tomography and magnetic resonance imaging systems – and a leader in laboratory diagnostics as well as clinical IT. In fiscal 2015, which ended on September 30, 2015, Siemens generated revenue of €75.6 billion and net income of €7.4 billion. At the end of September 2015, the company had around 348,000 employees worldwide.