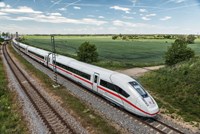 The ICE 4 will be the backbone of the Deutsche Bahn's future long-distance network. In May 2011, the German national railway company is concluding a framework agreement with Siemens Mobility for up to 300 trainsets. It is the largest train contract that Siemens has ever won in its more than 160 years of corporate history.
In the initial phase, 130 ICE4-type trains have been ordered, and beginning in 2017 they will replace the Intercity and Eurocity fleets put into operation between 1971 and 1991. At a later time, it is planned to replace ICE 1 and ICE 2 vehicles. The ICE 4 will then be responsible for roughly 70 percent of Deutsche Bahn's interurban transport revenue.
The ICE 4 sets new standards in intercity traffic. A unique train concept has been developed, that means it can be individually adapted to the requirements of various transport tasks. The modular drive concept is based on independent Powercars with identical traction technology, resulting in more flexibility than ever before. High operational availability is guaranteed by a large number of reliable systems with high redundancy.
About Siemens AG
Siemens AG (Berlin and Munich) is a global technology powerhouse that has stood for engineering excellence, innovation, quality, reliability and internationality for more than 165 years. The company is active in more than 200 countries, focusing on the areas of electrification, automation and digitalization. One of the world's largest producers of energy-efficient, resource-saving technologies, Siemens is No. 1 in offshore wind turbine construction, a leading supplier of combined cycle turbines for power generation, a major provider of power transmission solutions and a pioneer in infrastructure solutions as well as automation, drive and software solutions for industry. The company is also a leading provider of medical imaging equipment – such as computed tomography and magnetic resonance imaging systems – and a leader in laboratory diagnostics as well as clinical IT. In fiscal 2014, which ended on September 30, 2014, Siemens generated revenue from continuing operations of €71.9 billion and net income of €5.5 billion. At the end of September 2014, the company had around 343,000 employees worldwide on a continuing basis.