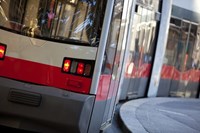 The urban transport company Phoenix Valley Metro Rail has ordered 11 new S70 light rail vehicles (LRV) from Siemens.
The vehicles will operate in Phoenix, in the U.S. state of Arizona. The order also includes an option for up to 67 additional vehicles. The new vehicles offer a larger interior, energy-efficient LED lighting, and heavy-duty air conditioning systems. The trams for Valley Metro will be built at Siemens' manufacturing plant in Sacramento, California.
"Investment in transit is a major contributor to powering this nation's ongoing economic growth, both locally and across the country," said Valley Metro Rail Chair, Tempe Mayor Mark Mitchell. "We look forward to successful collaboration and partnership with Siemens who plays a critical role in the expansion of our Valley's light rail system."
"Phoenix is already the 18th city in North America to rely on light rail vehicles built by Siemens. Our modern vehicles offer riders a comfortable and safe journey on board. Siemens' rapid transit systems offer cities throughout the world reliable solutions that are tailored to their specific needs," said Sandra Gott-Karlbauer, CEO of Siemens Urban Transport.
About Siemens AG
Siemens AG (Berlin and Munich) is a global technology powerhouse that has stood for engineering excellence, innovation, quality, reliability and internationality for more than 165 years. The company is active in more than 200 countries, focusing on the areas of electrification, automation and digitalization. One of the world's largest producers of energy-efficient, resource-saving technologies, Siemens is a leading supplier of efficient power generation and power transmission solutions and a pioneer in infrastructure solutions as well as automation, drive and software solutions for industry. The company is also a leading provider of medical imaging equipment – such as computed tomography and magnetic resonance imaging systems – and a leader in laboratory diagnostics as well as clinical IT. In fiscal 2016, which ended on September 30, 2016, Siemens generated revenue of €79.6 billion and net income of €5.6 billion. At the end of September 2016, the company had around 351,000 employees worldwide.