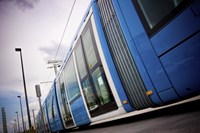 Line 1 of Ecuador's capital Quito
Metro line operates at an altitude of 2,800 meters
Passenger service in summer 2019
Siemens has been commissioned by the Acciona-Odebrecht construction consortium to electrify the entire Metro Line 1 in Ecuador's capital of Quito. Line 1 will substantially improve daily commuting in the city, since it will provide direct routes from north (El Labrador) and south (Quitumbe) of the city into the downtown area and historical city center. The new metro route will considerably reduce commute time to these destinations. The line is scheduled to begin passenger service in summer 2019.
One of the highest metro systems in the world is currently being built in Quito. The city's first metro line will run over 20 kilometers through the stretched-out capital of the South American country and operate at an elevation of more than 2,800 meters above sea level. Siemens will be responsible for the complete electrification of the new double-track Metro Line 1 that will connect the northern and southern parts of the city with 15 stations. The scope of the project includes about 46 kilometer of rigid catenary, six kilometer of flexible catenary, eleven traction power supply stations, 29 auxiliary power supply stations, and the SCADA (Supervisory Control and Data Acquisition) system for monitoring and controlling the traction power supply.
The new rail system is an important step in the modernization of the city with over one and a half million population and is expected to transport more than 350,000 passengers a day when completed. The city's current heavy volume of traffic regularly leads to traffic jams and smog. By providing a more environmentally friendly mass transit system, the city expects to reduce CO2 emissions by up to 30,000 tons a year.
About Siemens
Siemens AG (Berlin and Munich) is a global technology powerhouse that has stood for engineering excellence, innovation, quality, reliability and internationality for more than 165 years. The company is active in more than 200 countries, focusing on the areas of electrification, automation and digitalization. One of the world's largest producers of energy-efficient, resource-saving technologies, Siemens is No. 1 in offshore wind turbine construction, a leading supplier of gas and steam turbines for power generation, a major provider of power transmission solutions and a pioneer in infrastructure solutions as well as automation, drive and software solutions for industry. The company is also a leading provider of medical imaging equipment – such as computed tomography and magnetic resonance imaging systems – and a leader in laboratory diagnostics as well as clinical IT. In fiscal 2015, which ended on September 30, 2015, Siemens generated revenue of €75.6 billion and net income of €7.4 billion. At the end of September 2015, the company had around 348,000 employees worldwide.