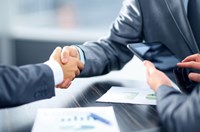 By the year 2050, an estimated 70 percent of the world's population will be living in cities. As a result, there will be an increasingly urgent need to provide efficient mobility solutions for the residents. People expect to have solutions available that make their daily mobility needs simpler, more flexible, faster, more reliable and affordable. Cities, on the other hand, face the challenge of reducing the costs, space requirements, noise and CO2 emissions of transportation. Addressing these needs, Siemens will be exhibiting at Innotrans 2016 – under the motto "Rethinking mobility" – digital innovations that will make the mobility industry more competitive and create more attractive mobility solutions.
Improved availability through status monitoring and diagnostics
Reliability and maximum availability are indispensible for the cost-efficient operation of rail vehicles and the infrastructure they use. High rates of availability are possible only when service and maintenance activities are systematically planned and carried out. Digitalization plays a key role here. Using special connectivity solutions, Siemens technicians have regular access to vehicle data via redundant and highly secure wireless links. This data is then analyzed in a central diagnostics system to calculate fault predictions and provide technicians in Siemens and rail operator depots recommendations for acute or scheduled maintenance. Long before there are actual signs of a fault, its source can be identified. Siemens is the first company in the rail industry to operate a special data analysis center for this purpose, located in Munich, Germany.
Maximized throughput through automated operations
Drawing on Siemens' years of experience in urban transportation, it will also be possible to transfer automation functions to regional and long-distance rail transport. For this purpose, proven systems used in metros for the automatic acceleration and braking of vehicles (Automatic Train Operation, or ATO) will be coupled with the European Train Control System (ETCS). Such an "ATO over ETCS" system is currently being installed for London's Thameslink project. Such partly automated driver operation will be the basis for further developments. The goal is to also have fully automated operations in long-distance rail transport by 2030.
Greater passenger comfort through innovative IT applications
Digitalization will revolutionize the way we get around. Connectivity is the key to providing greater passenger safety and comfort. Siemens offers state-of-the-art communication solutions that enable the use of Internet and entertainment offerings, integrate video surveillance and travel information, and coordinate intermodal transport services. Thanks to comprehensive information and the extensive support of passengers, travel will be substantially simpler, safer and more comfortable.
Siemens at the Innotrans 2016
This year, Siemens will be presenting its products and solutions in Hall 4.2 (Booth 203) and in the outside exhibition area 0/400. In addition to the highlights mentioned above, the company will be showing six vehicles outside.
The new broad-gauge Vectron locomotive, adapted to demanding conditions, will begin service in Finland in 2017.
The ÖBB cityjet demonstrates the flexibility of the vehicle's platform: It can be used both as a light-rail variant for urban service or as a regional train.
The first Velaro high-speed train for Turkey has been in service for over a year and has already covered more than 600,000 kilometers. Six additional trains will be produced at the Siemens factory in Krefeld, Germany.
For the world's biggest urban rail project currently under way – the metro system for Riyadh, Saudi Arabia – Siemens is delivering 74 driverless metro trains.
In Doha, in the Emirate of Qatar, Siemens is building a turnkey tram system that includes Avenio low-floor trams. The trams will operate completely without overhead power lines.
Beginning in 2017, the Desiro City designed for South West Trains will substantially increase passenger capacities over older trains when handling London's regional transport.
About Siemens
Siemens AG (Berlin and Munich) is a global technology powerhouse that has stood for engineering excellence, innovation, quality, reliability and internationality for more than 165 years. The company is active in more than 200 countries, focusing on the areas of electrification, automation and digitalization. One of the world's largest producers of energy-efficient, resource-saving technologies, Siemens is No. 1 in offshore wind turbine construction, a leading supplier of gas and steam turbines for power generation, a major provider of power transmission solutions and a pioneer in infrastructure solutions as well as automation, drive and software solutions for industry. The company is also a leading provider of medical imaging equipment – such as computed tomography and magnetic resonance imaging systems – and a leader in laboratory diagnostics as well as clinical IT. In fiscal 2015, which ended on September 30, 2015, Siemens generated revenue of €75.6 billion and net income of €7.4 billion. At the end of September 2015, the company had around 348,000 employees worldwide.