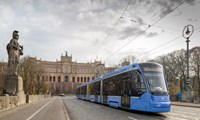 SWM (Stadtwerke München - Munich Municipal Authorities) and its subsidiary company MVG (Münchner Verkehrsgesellschaft - Munich Transport Corporation) have ordered an additional 22 Avenio trams from Siemens for 70 million euros. They will supplement the eight trams of the same type which have already been running for passenger services since 2014. The order includes options for up to 124 further units with a total value of up to 300 million euros. The trams are being built at the Siemens plant in Vienna, with delivery scheduled to take place from mid-2017.
"The vehicles we have now ordered will provide a further significant increase in the capacity of Munich's trams. The options enable SWM/MVG to call on new vehicles in line with requirements in the coming years, and well into the next decade. Overall, we're entering into the largest tram procurement program of recent decades," says Herbert König, SWM Director of Transportation and MVG CEO.
"Munich is the first city to use our Avenio tram in everyday passenger service. In particular, the challenging Munich network enables it to fully utilize its strengths and demonstrate that it can run comfortable and smoothly on existing infrastructure. We are proud that we can continue the success story, thanks to this follow-up order – one of the largest orders for trams in Europe," says Jochen Eickholt, the railway boss at Siemens.
The basic order includes nine two-car trains, nine three-car trains and four four-car trains. Each of the two-car and three-car trains will then be coupled to nine double traction trains on working days – the longest trams ever used in Munich at around 48 meters. They will then accommodate around 260 people, and are intended for use on lines 20 and 21. The four new four-car Avenios, which correspond to the eight Avenios already available in terms of their length and capacity, will be used on lines 16 (Romanplatz – St. Emmeram) and 17 (Amalienburgstraße – Schwanseestraße) to increase capacity.
"13 older trains which can accommodate 2,028 people will be replaced by 22 new trains which can accommodate 3,208 people; this enables us to provide room for more than 1,000 additional people on the existing network, including line 16, which has seen a massive increase in passenger numbers due to the extremely successful extension to St. Emmeram," explains König.
The options are broken down into three lots with a total of up to 124 units. They contain options for two-car, three-car, four-car and five-car trains to be delivered from 2018 to 2028. When calculating the lots, SWM/MVG have taken into account future replacement needs, future compaction in the existing network and any additional requirements for new lines like the Western and Northern sections. The final trains mentioned can be ordered as soon as the green light is given for these new routes.
About Siemens AG
Siemens AG (Berlin and Munich) is a global technology powerhouse that has stood for engineering excellence, innovation, quality, reliability and internationality for more than 165 years. The company is active in more than 200 countries, focusing on the areas of electrification, automation and digitalization. One of the world's largest producers of energy-efficient, resource-saving technologies, Siemens is No. 1 in offshore wind turbine construction, a leading supplier of combined cycle turbines for power generation, a major provider of power transmission solutions and a pioneer in infrastructure solutions as well as automation, drive and software solutions for industry. The company is also a leading provider of medical imaging equipment – such as computed tomography and magnetic resonance imaging systems – and a leader in laboratory diagnostics as well as clinical IT. In fiscal 2014, which ended on September 30, 2014, Siemens generated revenue from continuing operations of €71.9 billion and net income of €5.5 billion. At the end of September 2014, the company had around 343,000 employees worldwide on a continuing basis.