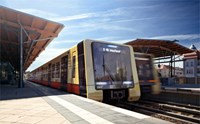 S-Bahn Berlin GmbH has signed a framework contract with the consortium of Stadler Pankow GmbH and Siemens for the delivery of up to 1,380 vehicles. A firm order was placed for the first 106 trains. The 85 four-section and 21 two-section trains have a high triple-digit million-euro order volume. S-Bahn Berlin, a subsidiary of Deutsche Bahn, plans to use the new trains on the Ringbahn lines (S 41 and S 42) as well as on the system's southeastern feeder lines S 47, S 46 and S 8. These lines comprise roughly one-third of the entire S-Bahn network in Berlin.
The first ten vehicles will be ready to enter service as of 2020. Subsequently, all remaining vehicles will be delivered continuously to the Berlin system up to 2023. The vehicles will be manufactured and assembled at the Berlin plant operated by Stadler Pankow GmbH.
"The first ten vehicles will be pre-production and test vehicles. They will undergo extensive tests before entering regular passenger service – which will enable us to incorporate possible findings from operations in Berlin in the series," explained Ulf Braker, Member of the Group Executive Board of Stadler Pankow GmbH.
"Siemens and Stadler are offering a unique combination of competencies for the future of S-Bahn Berlin. Both companies are deeply rooted in Berlin, and together we will deliver vehicles that will operate with the highest reliability over many decades and be top-class technically," said Sabrina Soussan, head of Siemens' business with high-speed and regional trains and locomotives.
The vehicles will have a modern exterior design while remaining loyal to the traditional and trusted yellow and red colors of the Berlin S-Bahn. Along with powerful traction and control systems that ensure highly efficient and quiet operation, the main innovations will be in the interior. The cars will be walk-through all the way, feature a modern passenger information system and provide a spacious and comfortable environment for passengers. For the first time in Berlin, the trains will be equipped with air conditioning. In addition, the cars will offer space for wheelchairs located directly behind the driver. As is usual in S-Bahn trains, virtually all of the seats will be arranged vis-à-vis and will be supplemented by ample standing room and generously dimensioned multiple-purpose zones.
Consortium leader Stadler will be responsible for the mechanical and structural aspects of the construction and production, including, for example, the air conditioning system and assembly of all components. Siemens will be responsible for the electrical equipment, including the propulsion and braking systems, on-board power supply system, vehicle and train control systems, passenger information system and vehicle bogies. Maintenance of the trains will be provided by S-Bahn Berlin GmbH, which will use its existing infrastructure.
About Siemens AG
Siemens AG (Berlin and Munich) is a global technology powerhouse that has stood for engineering excellence, innovation, quality, reliability and internationality for more than 165 years. The company is active in more than 200 countries, focusing on the areas of electrification, automation and digitalization. One of the world's largest producers of energy-efficient, resource-saving technologies, Siemens is No. 1 in offshore wind turbine construction, a leading supplier of gas and steam turbines for power generation, a major provider of power transmission solutions and a pioneer in infrastructure solutions as well as automation, drive and software solutions for industry. The company is also a leading provider of medical imaging equipment – such as computed tomography and magnetic resonance imaging systems – and a leader in laboratory diagnostics as well as clinical IT. In fiscal 2015, which ended on September 30, 2015, Siemens generated revenue of €75.6 billion and net income of €7.4 billion. At the end of September 2015, the company had around 348,000 employees worldwide. Further information is available on the Internet at www.siemens.com.
About Stadler Rail Group
Stadler Rail Group, a systems supplier of customer-specific solutions for rail vehicle construction, is headquartered in Bussnang, Switzerland, and has locations in Switzerland (Altenrhein, Bussnang, Winterthur and Biel), Germany (Berlin-Pankow, Berlin-Reinickendorf and Velten), Poland, Hungary, the Czech Republic, Italy, Austria, the Netherlands, Algeria and the U.S. The Group has around 6,000 employees. The most prominent vehicle families produced by the Stadler Rail Group are the GTW articulated railcar (600 trains sold), the RS1 Regio Shuttle (497 trains sold), the FLIRT (1,128 trains sold), the double-decker, multiple-unit train KISS (216 trains sold), and the EC 250 high-speed train (29 sold trains) in the main-line segment, and the Variobahn (407 sold vehicles) and Tango (159 sold vehicles) in the tram segment. The commuter transport segment is supplemented by the Metro (13+24 sold vehicles). Stadler also produces meter-gauge rail vehicles, passenger coaches and locomotives, and is the world's leading manufacturer of rack-and-pinion railway vehicles. In addition, Stadler Rail Service maintains 15 rail vehicle fleets comprising over 300 vehicles operating 60 million kilometers a year.