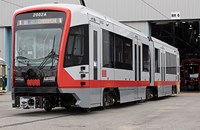 The first Siemens-built light rail vehicle for San Francisco, U.S., entered revenue service. The new light rail vehicles will be built at the Siemens plant in Sacramento, California. In total, the company will deliver 219 light rail vehicles for San Francisco's Municipal Transportation Agency (SFMTA), Siemens' largest order for light rail cars placed in the U.S.
"An incredible amount of work went into making sure these state-of-the-art, once-ina-generation vehicles are going to work well for Muni riders for many years to come," said SFMTA Director of Transportation, Ed Reiskin. "When we initiated the contract, it was the largest light rail vehicle contract ever awarded in the United States and we are pleased that this project is ahead of schedule."
"The start of the revenue service is an important milestone not only for Siemens and SFMTA, but also for the more than 700,000 passengers who use San Francisco's transportation system per day. The new trains will contribute to the growing demand for mass transit in the booming metropolis," said Sabrina Soussan, CEO of the Siemens Mobility Division.
Siemens newly-developed light rail vehicle is based on its Model S200 and is especially energy-efficient thanks to a light-weight drive system that recuperates braking energy and an LED lighting system that uses up to 40 percent less electricity than standard neon lighting. The trains for SFMTA include features informed by public input including a new seating configuration, new interior color schemes, and new exterior design.
About Siemens
Siemens AG (Berlin and Munich) is a global technology powerhouse that has stood for engineering excellence, innovation, quality, reliability and internationality for more than 165 years. The company is active in more than 200 countries, focusing on the areas of electrification, automation and digitalization. One of the world's largest producers of energy-efficient, resource-saving technologies, Siemens is No. 1 in offshore wind turbine construction, a leading supplier of gas and steam turbines for power generation, a major provider of power transmission solutions and a pioneer in infrastructure solutions as well as automation, drive and software solutions for industry. The company is also a leading provider of medical imaging equipment – such as computed tomography and magnetic resonance imaging systems – and a leader in laboratory diagnostics as well as clinical IT. In fiscal 2015, which ended on September 30, 2015, Siemens generated revenue of €75.6 billion and net income of €7.4 billion. At the end of September 2015, the company had around 348,000 employees worldwide.