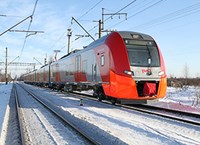 Russian Railways (RZD) has awarded Siemens a maintenance contract for Desiro RUS type regional trains. Negotiations started already in 2011 when Siemens was awarded to produce the trains. The maintenance contract will run for 40 years.
The production of the 240 trains (1,200 cars) started in 2013 with increasing localization in Yekaterinburg. The first 10 trains were already produced and certificated. The delivery will continue till 2020. The trains will be in passenger service above all in Russia's rapidly growing metropolitan regions.
In 2011, RZD has awarded Siemens a 40-year maintenance contract covering 54 trains. The current contract integrates this former agreement, bringing the total number of trains to be serviced to 294.
The depots in Adler near Sochi and in Moscow are being made available by RZD, while Siemens is responsible, among other things, for the management of the service work, for the logistics and for the supply of spare parts. The 40-year contract includes preventive maintenance of the Desiro RUS and all inspections which have to be conducted at different intervals. In peak-load periods, as many as 100 people will be working on the trains in both depots.
About Siemens
Siemens AG (Berlin and Munich) is a global technology powerhouse that has stood for engineering excellence, innovation, quality, reliability and internationality for more than 165 years. The company is active in more than 200 countries, focusing on the areas of electrification, automation and digitalization. One of the world's largest producers of energy-efficient, resource-saving technologies, Siemens is No. 1 in offshore wind turbine construction, a leading supplier of gas and steam turbines for power generation, a major provider of power transmission solutions and a pioneer in infrastructure solutions as well as automation, drive and software solutions for industry. The company is also a leading provider of medical imaging equipment – such as computed tomography and magnetic resonance imaging systems – and a leader in laboratory diagnostics as well as clinical IT. In fiscal 2014, which ended on September 30, 2014, Siemens generated revenue from continuing operations of €71.9 billion and net income of €5.5 billion. At the end of September 2014, the company had around 343,000 employees worldwide on a continuing basis. Further information is available on the Internet at www.siemens.com.