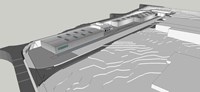 Siemens is investing in the growth market for urban public transport and is building a new assembly factory for trams in the Turkish city of Gebze, near Istanbul.
By localizing manufacturing and the supply chain in Turkey, the company expects even better chances for winning tenders as well as substantial cost advantages for international orders. The rail industry is increasingly depending on international production networks. This is particularly true for the tram business, which is facing changed competitive conditions. Siemens is already cooperating with local manufacturing partners in Turkey on a project basis. The first vehicles are scheduled to be produced in the new factory beginning in 2018. Siemens is investing around 30 million euros in the new facility.
The business with urban rail transportation is currently growing at around three percent a year. Along with the traditional producers, many new suppliers from Eastern Europe and Asia are pushing into the tram market and are primarily benefiting from lower manufacturing costs. Numerous established suppliers already have production facilities outside of Western Europe for supplying the world market. Siemens intends to secure its competitiveness in the tram market with its own factory and a local supply chain in Turkey. The company has developed and successfully marketed modern vehicle platforms in recent years. "Our Avenio series trams have already proven themselves in some countries. We are now aiming at building on this success in the global market. We have the best chances of succeeding here with a factory in Turkey," said Jochen Eickholt, head of Siemens' rail business.
About Siemens AG
Siemens AG (Berlin and Munich) is a global technology powerhouse that has stood for engineering excellence, innovation, quality, reliability and internationality for more than 165 years. The company is active in more than 200 countries, focusing on the areas of electrification, automation and digitalization. One of the world's largest producers of energy-efficient, resource-saving technologies, Siemens is No. 1 in offshore wind turbine construction, a leading supplier of gas and steam turbines for power generation, a major provider of power transmission solutions and a pioneer in infrastructure solutions as well as automation, drive and software solutions for industry. The company is also a leading provider of medical imaging equipment – such as computed tomography and magnetic resonance imaging systems – and a leader in laboratory diagnostics as well as clinical IT. In fiscal 2014, which ended on September 30, 2014, Siemens generated revenue from continuing operations of €71.9 billion and net income of €5.5 billion. At the end of September 2014, the company had around 343,000 employees worldwide on a continuing basis.