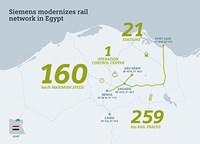 On behalf of the Egyptian National Railways (ENR), Siemens is supplying signaling technology for 260 kilometers of rail corridors from Zagazig to Abu Kebir in the north of Cairo and from Benha to Port Said, a strategic port situated on the northern end of the Suez Canal to the Mediterranean Sea.
"The existing mechanical interlocking systems will be being replaced by modern, state-of-the-art centrally controlled electronic systems. This will enable both the safety and throughput of passenger trains to be increased, as well as the freight volume on the routes", says Jochen Eickholt, CEO of the Siemens Mobility Division. Commissioning of the route is scheduled for 2020.
The 9,500 plus kilometers of the Egyptian rail network carries around 500 million passengers and six million tons of goods annually. Less than a third of the rail network is double tracked. The transport ministry therefore approved a program to modernize the signaling system of the entire railway network in the country. Siemens is supplying the electronic interlocking systems, point mechanisms, level-crossing technology and communication technology for the routes, which include around 21 stations. The contract also includes equipping the operations control center located in Zagazig. Modifications to the signaling equipment enable the maximum speed to be increased from 120 to 160 km/h.
About Siemens
Siemens AG (Berlin and Munich) is a global technology powerhouse that has stood for engineering excellence, innovation, quality, reliability and internationality for more than 165 years. The company is active in more than 200 countries, focusing on the areas of electrification, automation and digitalization. One of the world's largest producers of energy-efficient, resource-saving technologies, Siemens is No. 1 in offshore wind turbine construction, a leading supplier of gas and steam turbines for power generation, a major provider of power transmission solutions and a pioneer in infrastructure solutions as well as automation, drive and software solutions for industry. The company is also a leading provider of medical imaging equipment – such as computed tomography and magnetic resonance imaging systems – and a leader in laboratory diagnostics as well as clinical IT. In fiscal 2015, which ended on September 30, 2015, Siemens generated revenue of €75.6 billion and net income of €7.4 billion. At the end of September 2015, the company had around 348,000 employees worldwide.