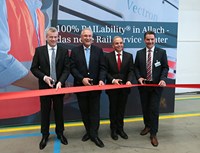 Bavaria's Transport Minister Joachim Herrmann and Jochen Eickholt, CEO of Siemens Mobility Division, opens the Siemens Service Center for Locomotives in Munich-Allach.
Constructed in the space of just a year, the Rail Service Center boasts a 2000-square-meter sheltered service hall where preventive and corrective maintenance will be carried out on locomotives. The development marks the first time that Siemens has bundled locomotive production and maintenance at a single location.
Munich is an ideal location at which to base the Rail Service Center. As a node in key east/west and north/south connections in the European rail network, the city is visited by almost every locomotive traveling across Europe and can serve as an interim stop for important inspections, maintenance, overhauls or additional tests. Repair work and modernization can equally be carried out here, too.
Over the long term, rail operators can schedule their locomotives' service stops into their routes, removing the need for lengthy stock transfer trips that cost time and money. The proximity between manufacture and servicing also brings synergies, as the engineers in production and development receive direct feedback from their service colleagues, which can then flow directly into the latest locomotive developments. This makes for more service-friendly vehicles and lower life-cycle costs.
"This traditional factory, once solely for locomotives, has become a facility for modern technology that sets standards for innovation and service," said Bavaria's Interior and Transport Minister Joachim Herrmann.
The opening ceremony also included a presentation of the Data Services Center, a facility also located at Munich-Allach, where huge amounts of data from vehicle fleets worldwide will be assessed in the future. The data analysts are able to use algorithms to identify patterns and trends and then anticipate potential malfunctions and damage before they even occur. The result: a new era of quality in predictive maintenance.
"These two facilities will pave the way for Siemens to provide the rail service of the future. Double-digit growth is expected in the market for digital service in particular, and we have invested in this field in Allach so that we can profit from this growth and create value for the benefit of our customers," said Jochen Eickholt.
In future, the Data Center will function as the beating heart of Siemens' rail services business. Maintenance data from projects around the world will be analyzed and processed here at a high level and over the long term, in preparation for the future. Digitalization facilitates optimal access to data that is important for service activities.
This year saw a dedicated team set up to deal exclusively with data-driven services. A remote diagnostics platform was quickly established, which is linked to the vehicles and infrastructure and stores lifetime data in a database. A variety of analytical tools allow the experts to identify fault patterns and develop predictive models that can be used during operations.
The Siemens factory at Munich-Allach boasts a long tradition of locomotive manufacturing and currently employs 700 people. Locomotives have been built here and at previous Siemens locations for 175 years – the tally currently stands at around 22,000 units. On a 24,500-square-meter sheltered production area, a vehicle passes through all phases of manufacture, assembly and commissioning. Part of the development work is also carried out in Munich. Within the Siemens production network, Allach is the lead factory for locomotives. Other locomotive manufacturing sites around the globe are supplied with expertise from here, including Yekaterinburg (Russia) or Sacramento (USA).
About Siemens AG
Siemens AG (Berlin and Munich) is a global technology powerhouse that has stood for engineering excellence, innovation, quality, reliability and internationality for more than 165 years. The company is active in more than 200 countries, focusing on the areas of electrification, automation and digitalization. One of the world's largest producers of energy-efficient, resource-saving technologies, Siemens is No. 1 in offshore wind turbine construction, a leading supplier of combined cycle turbines for power generation, a major provider of power transmission solutions and a pioneer in infrastructure solutions as well as automation, drive and software solutions for industry. The company is also a leading provider of medical imaging equipment – such as computed tomography and magnetic resonance imaging systems – and a leader in laboratory diagnostics as well as clinical IT. In fiscal 2014, which ended on September 30, 2014, Siemens generated revenue from continuing operations of €71.9 billion and net income of €5.5 billion. At the end of September 2014, the company had around 343,000 employees worldwide on a continuing basis.