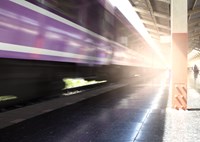 Siemens is to supply the signaling, safety and control systems for the 140 km long-distance rail network in the Algiers metropolitan area.
The order will be carried out by ESTEL RA, a joint venture of state-run Algerian Railways SNTF (Société Nationale des Transports Ferroviaires) and Siemens. "As rail automation market leaders, we are supplying state-of-the-art technology to Algeria: cross-border rail services at up to 160 km/h for passengers and freight, shorter headways and greater line utilization", says Jochen Eickholt, CEO of the Mobility Division at Siemens. The order volume for Siemens amounts to some 340 million euros and is the biggest rail automation order that the company has ever won.
With over three million inhabitants, Algiers is the country's largest city and, at the same time, Algeria's most important transport hub. Expanding the railway network is designed to shift traffic from road to rail, thus reducing the daily congestion in the greater Algiers area and improving the mobility of the city's inhabitants. Network commissioning is planned for the end of 2019. The railway network includes 18 stations and is designed for both goods and passenger transport. It is to be equipped with signaling, safety and control systems, as well as shunting and telecommunications technology. Siemens is supplying the first expansion stage of the ETCS European Train Control System. This permits speeds of up to 160 km/h and enables trains to travel at shorter intervals, thus increasing so-called throughput. Siemens is supplying automated shunting equipment for the freight line which will optimize goods handling with modern cargo technology. In addition, the Algerian rail operator personnel will receive training in how to operate and maintain the new system.
The Algerian government is investing in the country's infrastructure as part of a five-year economic stimulus package. One focus is on the expansion and construction of the public transportation system. In recent years, Siemens has already provided ETCS signaling systems for the mainline railway links from from Boughezoul to M'Sila and to Tissemsilt, Mecheria to El Bayadh, Djelfa to Laghouat, and Beni Mansour to Bejaia, as well as for Algeria's all-important rail freight line between Senia and the Port of Arzew.
About Siemens AG
Siemens AG (Berlin and Munich) is a global technology powerhouse that has stood for engineering excellence, innovation, quality, reliability and internationality for more than 165 years. The company is active in more than 200 countries, focusing on the areas of electrification, automation and digitalization. One of the world's largest producers of energy-efficient, resource-saving technologies, Siemens is No. 1 in offshore wind turbine construction, a leading supplier of gas and steam turbines for power generation, a major provider of power transmission solutions and a pioneer in infrastructure solutions as well as automation, drive and software solutions for industry. The company is also a leading provider of medical imaging equipment – such as computed tomography and magnetic resonance imaging systems – and a leader in laboratory diagnostics as well as clinical IT. In fiscal 2015, which ended on September 30, 2015, Siemens generated revenue of €75.6 billion and net income of €7.4 billion. At the end of September 2015, the company had around 348,000 employees worldwide.