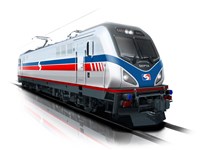 Siemens has been awarded a 118 million USD (around 110 million euro) contract to build 13 electric locomotives for the Southeastern Pennsylvania Transportation Authority (SETPA), operator of regional and mass transit in the Philadelphia area, U.S. state of Pennsylvania. The contract includes the supply of spare parts and operation and maintenance training. An option to deliver up to an additional five locomotives is also part of the contract. The electric locomotives will be built at the Siemens rail manufacturing facility in Sacramento, California. The new vehicles are set to be delivered in early 2018.
"The purchase of these new locomotives are the first of several new vehicle purchases which are part of SEPTA's Building the Future program," said SEPTA General Manager Jeff Knueppel. "We are looking forward to their arrival to help provide faster and more reliable regional rail service for our rapidly growing ridership."
"The new locomotives are designed for improved reliability and easier maintenance for faster turn-around times and increased availability for service," said Jochen Eickholt, CEO of Siemens Mobility Division. "We are confident that these new electric locomotives will enhance mobility for the people, businesses and economy of the Philadelphia region."
These modern electric locomotives will replace an aging locomotive fleet to support SEPTA's efforts to expand capacity and provide more efficient and reliable service for its ridership along SEPTA's regional rail lines. A state-of-the-art microprocessor system performs self-diagnosis of all key systems, makes self-corrective action and notifies the locomotive engineer. In addition, there is a redundant system to ensure power is maintained to the passenger cars for heating, cooling, lighting and door operation amongst others. The locomotives also meet the latest federal rail safety regulations, including crash energy management components. Furthermore, the locomotives energy efficient use of regenerative braking feeds energy back into the power grid.
About Siemens AG
Siemens AG (Berlin and Munich) is a global technology powerhouse that has stood for engineering excellence, innovation, quality, reliability and internationality for more than 165 years. The company is active in more than 200 countries, focusing on the areas of electrification, automation and digitalization. One of the world's largest producers of energy-efficient, resource-saving technologies, Siemens is No. 1 in offshore wind turbine construction, a leading supplier of combined cycle turbines for power generation, a major provider of power transmission solutions and a pioneer in infrastructure solutions as well as automation, drive and software solutions for industry. The company is also a leading provider of medical imaging equipment – such as computed tomography and magnetic resonance imaging systems – and a leader in laboratory diagnostics as well as clinical IT. In fiscal 2014, which ended on September 30, 2014, Siemens generated revenue from continuing operations of €71.9 billion and net income of €5.5 billion. At the end of September 2014, the company had around 343,000 employees worldwide on a continuing basis.