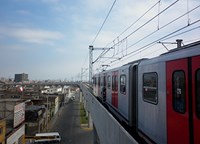 Siemens was contracted by Ansaldo STS to electrify the entire metro line 2 as well as the roughly 8-kilometer-long first phase of line 4 in Lima. The two new metro lines will connect additional city districts and the international airport to the capital's mass transit network. This project will not only boost the city's development but also reduce CO2 emissions, because roughly 80 percent of the energy required for rail electrification is provided by hydroelectric power plants. Passenger service is due to start on the first section as of 2017. The remaining three sections will follow by 2021.
Siemens will supply the complete electrification of the new double-track metro line 2, which is to connect the eastern district of Ate with the western suburb of Callao via 27 kilometers of track that run through the historic city center. Another part of the project is the simultaneous extension of line 2 to the airport. This section is the first phase of the future line 4. The scope of supply includes six feeder stations (60 kV/20kV), two 20 kV cable distribution rings, 37 station supplies and 21 rectifier substations (1.5kV, DC), as well as the SCADA (supervisory control and data acquisition) system for the electrical systems. Siemens entered the market in Peru with the electrification of the first extension of the metro in Lima back in 2010.
The Siemens type series 8DN8 gas-insulated switchgear is specially designed for space-saving system configurations and has a low dead load, which makes it extremely cost-effective. As this switchgear is also characterized by low noise and very low field emission (EMC), it can be easily integrated in sensitive environments, residential areas and city centers.
About Siemens AG
Siemens AG (Berlin and Munich) is a global technology powerhouse that has stood for engineering excellence, innovation, quality, reliability and internationality for more than 165 years. The company is active in more than 200 countries, focusing on the areas of electrification, automation and digitalization. One of the world's largest producers of energy-efficient, resource-saving technologies, Siemens is No. 1 in offshore wind turbine construction, a leading supplier of gas and steam turbines for power generation, a major provider of power transmission solutions and a pioneer in infrastructure solutions as well as automation, drive and software solutions for industry. The company is also a leading provider of medical imaging equipment – such as computed tomography and magnetic resonance imaging systems – and a leader in laboratory diagnostics as well as clinical IT. In fiscal 2015, which ended on September 30, 2015, Siemens generated revenue of €75.6 billion and net income of €7.4 billion. At the end of September 2015, the company had around 348,000 employees worldwide. Further information is available on the Internet at www.siemens.com.