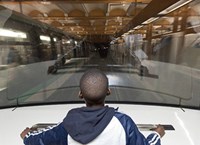 Siemens received an order from the Paris public transport operator RATP (Régie Autonome des Transports Parisiens) to equip the 27 stations of Paris Metro Line 4 with signaling and operations control systems. Fully automatic operation can increase the capacity of this line by up to 20 percent because trains will be able to run at shorter headways.
"Siemens has equipped about 300 route km worldwide with signaling technology for fully automatic operation, making it the market leader in this field. Automatic operation will enable Line 4 to offer a service interval of 85 seconds. At the same time, the automatic control will allow to reduce energy consumption by up to 15 percent," says Jochen Eickholt, CEO of Siemens Mobility. The order volume totals around 70 million euros. Work on the line is scheduled for completion in 2022.
To upgrade the twelve kilometers of Line 4, Siemens will supply the Trainguard MT automatic train control system that uses communications-based technology to achieve fully automatic, driverless operation. All train movements will be supervised via the operation control center, which will also be supplied by Siemens. Special doors at the platforms will ensure additional safety at all 27 metro stations. With around 700,000 passengers a day, Line 4 of the Paris Metro is one of the most frequented sections of the whole Paris mass transit network. It is also the most important north-south metro link in the city, connecting the stations of Porte de Clignancourt in the north of the city and future station Bagneux in the south. On its way through France's capital it stops at three major long-distance railway stations and is also the only line with transfer terminals to all 16 other mass transit lines.
Apart from Line 4, Siemens has also equipped Metro Lines 14 and 1 for driverless operation. Metro Line 1 is the oldest and most heavily frequented underground line in Paris. It links the east and west of the city along 17 kilometers of track. Siemens has likewise recently supplied important signaling components and systems for Lines 3, 5 and 9.
About Siemens AG
Siemens AG (Berlin and Munich) is a global technology powerhouse that has stood for engineering excellence, innovation, quality, reliability and internationality for more than 165 years. The company is active in more than 200 countries, focusing on the areas of electrification, automation and digitalization. One of the world's largest producers of energy-efficient, resource-saving technologies, Siemens is No. 1 in offshore wind turbine construction, a leading supplier of gas and steam turbines for power generation, a major provider of power transmission solutions and a pioneer in infrastructure solutions as well as automation, drive and software solutions for industry. The company is also a leading provider of medical imaging equipment – such as computed tomography and magnetic resonance imaging systems – and a leader in laboratory diagnostics as well as clinical IT. In fiscal 2015, which ended on September 30, 2015, Siemens generated revenue of €75.6 billion and net income of €7.4 billion. At the end of September 2015, the company had around 348,000 employees worldwide. Further information is available on the Internet at www.siemens.com.