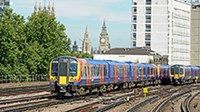 Siemens has received an order to upgrade the fleet of the british train operating company South Western Railway (SWR). Siemens will refurbish the existing 172- strong Class 444 and Class 450 Desiro fleet of trains, which currently operate across the SWR network. The contract is worth more than €56 million.
The enhancement programme, with work beginning in December 2017, will deliver a full interior refurbishment of all trains; including Axminster carpets, at seat power points for mobile devices and real-time information displays. Additional benefits for First Class customers include new leather seats and new tables incorporating innovative inductive charging. The refurbishment is expected to take around 12 months to complete.
The train enhancement programme is part of South Western Railway's investment plan to transform the customer experience during its tenure. The plan includes the introduction of new and as-new train fleets to increase capacity; longer, more frequent trains; quicker journey times and better connectivity; and station improvements and a better ticket buying experience.
"We are delighted to have appointed Siemens to carry out the refurbishment of our Class 444 and 450 Desiros. This significant investment in our fleet of trains will see a step change for our customers, and investment in local facilities and suppliers. We have a long relationship with Siemens, who I am confident will deliver a high quality product," said Neil Drury, Engineering Director, SWR.
"The UK is one of our core markets. With the refurbishment of the SWR fleet we will make an important contribution to improving passenger experience through renovations which will deliver better trains with more seats for travellers across the region," said Johannes Emmelheinz, CEO of Customer Services at Siemens Mobility Division.
About Siemens
Siemens AG (Berlin and Munich) is a global technology powerhouse that has stood for engineering excellence, innovation, quality, reliability and internationality for more than 165 years. The company is active in more than 200 countries, focusing on the areas of electrification, automation and digitalization. One of the world's largest producers of energy-efficient, resource-saving technologies, Siemens is No. 1 in offshore wind turbine construction, a leading supplier of gas and steam turbines for power generation, a major provider of power transmission solutions and a pioneer in infrastructure solutions as well as automation, drive and software solutions for industry. The company is also a leading provider of medical imaging equipment – such as computed tomography and magnetic resonance imaging systems – and a leader in laboratory diagnostics as well as clinical IT. In fiscal 2015, which ended on September 30, 2015, Siemens generated revenue of €75.6 billion and net income of €7.4 billion. At the end of September 2015, the company had around 348,000 employees worldwide