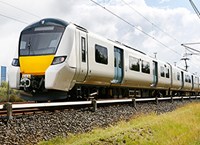 Billion-euro order for 115 trains with 1,140 cars
Long-term maintenance contract

All trains are scheduled to enter service by the end of 2018

Trains provide 80 percent more seating during peak periods through the heart of London
The first Desiro City train from Siemens for the Thameslink network in Greater London was delivered and entered service this week. Operator Govia Thameslink Railways (GTR) will operate the trains between Bedford and Brighton initially, followed by the routes to and from Cambridge and Peterborough as well as other destinations in the shires of Kent and Sussex. By the end of 2018, a total of 115 trains will have been delivered. Siemens will take over the complete long-term servicing and maintenance for this new fleet of trains.
"When designing our trains, passenger benefit was at the center of our considerations. We wanted trains that enhance capacity on Thameslink's lines, are reliably available to our customer and improve passenger experience," said Jochen Eickholt, CEO of Siemens Mobility Division.
Engineering Director Gerry McFadden said: "We are thrilled that our new Thameslink train is performing well. In future, as the train continues to prove itself, we will begin running it across London to Bedford. Ultimately the train will give passengers much-needed additional capacity with longer trains throughout the rush-hour, creating at least 1,000 extra standard class seats."
Passenger numbers in the Thameslink network have grown enormously. Passenger volumes increased by 40 percent in the past ten years alone, and a further substantial increase is expected in coming years. In order to handle this growing demand for capacity and, above all, to better cover peak periods in the centre of London, the government-funded Thameslink Programme was initiated. Around six billion British pounds are flowing into the construction of new stations, the upgrading of infrastructure and the extension of rail routes, as well as in new and longer trains and signalling systems that enable underground-like service. The goal is to have trains operating every two or three minutes along the route through the city centre during peak periods. This would be equivalent to 24 trains per hour. The inauguration of service of the first Class 700 trains marks an important programme milestone.
The trains provide over 80 percent more seating through the heart of London during peak periods, are around 50 percent longer than trains in the existing fleet, and have a capacity of 1,750 passengers. Wide doors facilitate the quick boarding and alighting of passengers, and electronic displays indicate where seats are available in the cars.
Siemens will be responsible for the trains' availability on the basis of a long-term service and maintenance contract. Two depots have been built for this purpose. Three Bridges, the depot in the south of London, has already begun operation. The depot in Hornsey, in the north of the city, will open later this year. With the help of predictive maintenance systems, the performance and wear of individual train components will be digitally monitored. This makes it possible to exchange parts even before a problem actually occurs, increasing the availability of the trains and the overall reliability of London's public transport. All in all, Siemens has invested over 300 million GBP (390 million euros) in building and equipping the depots.
About Siemens
Siemens AG (Berlin and Munich) is a global technology powerhouse that has stood for engineering excellence, innovation, quality, reliability and internationality for more than 165 years. The company is active in more than 200 countries, focusing on the areas of electrification, automation and digitalization. One of the world's largest producers of energy-efficient, resource-saving technologies, Siemens is No. 1 in offshore wind turbine construction, a leading supplier of gas and steam turbines for power generation, a major provider of power transmission solutions and a pioneer in infrastructure solutions as well as automation, drive and software solutions for industry. The company is also a leading provider of medical imaging equipment – such as computed tomography and magnetic resonance imaging systems – and a leader in laboratory diagnostics as well as clinical IT. In fiscal 2015, which ended on September 30, 2015, Siemens generated revenue of €75.6 billion and net income of €7.4 billion. At the end of September 2015, the company had around 348,000 employees worldwide.