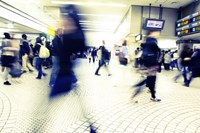 Since March 2017, commuters have been able to enjoy a hassle-free public transport ticketing experience with their contactless EMV (Euro-Master-Visa) credit and debit cards under the Land Transport Authority's (LTA) Account-Based Ticketing (ABT) pilot with Mastercard. In response to positive feedback, the LTA will extend this ABT pilot with Mastercard beyond the original duration of six months, and Visa and NETS will also come on board the ABT pilot from June 2018.
Extension of ABT Pilot with Mastercard
The results from the current ABT pilot with Mastercard have been encouraging. More than 100,000 commuters have signed up for the pilot since its launch in March 2017. During this period, there has been an average of over 60,000 transactions daily.
With the pilot extension, current ABT users can continue paying for their public transport rides with their Mastercard contactless credit or debit cards, and tracking their transactions online via the TransitLink ABT Portal or Mobile Services app. Commuters who wish to enjoy the same convenience are encouraged to sign up at www.transitlink.com.sg/ABT.
The pilot will allow LTA and its partners to finetune operations before LTA offers ABT to all commuters on a permanent basis in future. Commuters who do not have credit or debit cards will still be able to use their existing CEPAS travel cards (such as current ez-link, NETS FlashPay or LTA concession cards) for their public transport rides.
Ms Deborah Heng, Country Manager of Mastercard Singapore, said, "We are delighted with the results from the Account-Based Ticketing pilot which has been a positive experience for daily transit users, removing the hassle of topping up and enabling commuters to use their Mastercard contactless card for everything from groceries, food and beverage, to retail and entertainment and now for transit payments as well. We look forward to expanding the number of active Mastercard cardholders in public transportation as we work towards driving greater use of e-payments in Singapore."
Expansion of ABT Pilot to Visa and NETS
To enable even more commuters to enjoy the convenience of ABT, Visa and NETS cards will be accepted on the ABT pilot from June next year. Details will be announced in due course.
Mr Jeffrey Goh, Chief Executive Officer, NETS, said, "We are delighted to be part of this initiative to further Singapore's push to e-payments. NETS is today one of the most widely-used cards for everyday payments such as retail and F&B purchases and extending its use to the transit sector will make it even more convenient for commuters."
Ms Ooi Huey Tyng, Visa Country Manager for Singapore and Brunei, said, "We are excited to work with LTA to enable Visa payWave contactless cards for transit. Visa payWave solution is inter-operable, with Singaporeans making more than 8 million contactless transactions per month[1]. We believe our cardholders will welcome the ability to now tap and pay for their transportation as well. Transit payments will help more Singaporeans realise how simple and convenient contactless payments are, and accelerate our goal of becoming a smart nation."
Mobile Payments Trial for ABT
Singapore's high mobile penetration rate opens up opportunities in the area of mobile payments. As part of the ABT pilot with Mastercard, LTA will trial the use of mobile payment modes, such as Android Pay, Apple Pay and Samsung Pay, for public transport payments from the first quarter of 2018. Commuters taking part in this trial will not even need a card and can simply use their mobile phones to tap in and out on trains and buses.
ABT: The Future of e-payments in Public Transport
Mr Ngien Hoon Ping, Chief Executive of LTA, said, "LTA is excited to enable commuters to enjoy the convenience brought by e-payments in public transport. Together with our partners, we aim for the ABT pilot extension, expansion and eventually permanent roll-out to be the basis of our shift towards commuter-centric e-payments. Even as we do so, we remain committed to an inclusive public transport system, and will make e-payments more accessible for all commuters."
About Account-Based Ticketing
Account-Based Ticketing allows commuters to enjoy a "tap and go" fare payment experience by simply tapping their contactless credit or debit card on the bus or MRT fare readers, without the need for top-ups. Commuters will be charged for their public transport rides in their credit or debit card bill, similar to contactless transactions made at retail merchants.
[1] Singaporeans have embraced Visa payWave and today, close to six in ten Visa transactions are contactless and continue to grow at 56 per cent year-on-year.
Abouut The Signapore Land Transport Authority
The Land Transport Authority (LTA) is responsible for planning, operating, and maintaining Singapore's land transport infrastructure and systems.
Our aim is to make public transport and other mobility forms come alive so travellers of all ages will look forward to their daily journeys. We want to make daily travel a way of life that is healthier, greener and more sustainable.